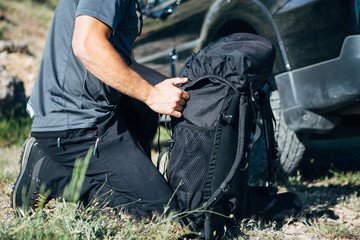 When I first started prepping, a vehicle survival kit was one of the first things I put together. Anything can happen, and if it does while you're out and about, a 72-hour survival kit in your vehicle will help you feel more at ease and could possibly save your life.
A 72-hour kit is essentially filled with items that will meet your basic survival needs (food, water, safety, shelter) for at least 3 days time.  The items placed in the kits should be lightweight and functional so that, if need be, carrying the kit will not be a strain due to unnecessary items.
If you'd like to build your own kit, there are several things you should consider. Take into account the likelihood of having your family with you.  If you have kids or pets who ride in your vehicle often, it's a good idea to prepare for them too, especially considering this is a great way to prep for an emergency evacuation as well. There will be extra items that you should add if that's the case.  To start your kit, use a heavy duty large backpack and fill it with:
Keep in mind, excellent already created kits can be purchased if starting from scratch isn't ideal.  However, you might want to add things like three days worth of prescription medications if you take any, along with other things you could need. I have an extra pair of waterproof hiking boots in my vehicle just in case I'm stranded and wearing improper footwear.  Those are only two of the possible additional things to consider as they are never something a premade kit will come with.
It's a good idea to periodically check your vehicle bag and all the contents to be sure items are still functioning properly. If you've added things such as prescription medications, you'll want to be aware of their expiration date and replace them accordingly.  If you use something from your vehicle's kit, you will also want to replace it as soon as possible. Check the lighters and make sure the fuel hasn't leaked out and ensure they work.
There is a lot of extra work that goes into preparing a vehicle survival kit. I have one in all of my family's cars and going this extra mile will give you some peace of mind.  Anything can happen an accident, a broken down vehicle, or an emergency evacuation. Make sure you're prepared!
Share your suggestions on a vehicle survival kit with our readers in the comments!