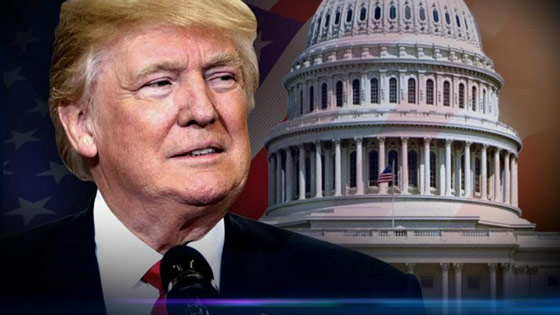 With a U.S. Naval Fleet set to fully arrive off the North Korean coast this week and the rogue state's leader Kim Jong Un reportedly continuing to expand his nuclear program and missile testing, President Donald Trump told United Nations Security Council ambassadors that the status quo must change.  The President has asked that new sanctions be placed on North Korea, something his predecessors attempted to implement with little success.
But unlike his predecessors, Trump's latest moves suggest he is prepared to commit U.S. forces to North Korea should the state fail to comply with demands to stifle their nuclear program, and according to a new report from Reuters, the President is doubling down on his efforts, hinting that he is indeed preparing military action.
Top Trump administration officials will hold a rare briefing on Wednesday at the White House for the entire U.S. Senate on the situation in North Korea.

All 100 senators have been asked to the White House for the briefing by Secretary of State Rex Tillerson, Secretary of Defense Jim Mattis, Director of National Intelligence Dan Coats and General Joseph Dunford, chairman of the Joint Chiefs of Staff, said White House spokesman Sean Spicer on Monday.

While administration officials routinely travel to Capitol Hill to address members of Congress on foreign policy matters, it is unusual for the entire Senate to go to the White House, and for all four of those officials to be involved.

Wednesday's briefing was originally scheduled for a secure room at the Capitol, but President Donald Trump suggested a shift to the White House, congressional aides said.

Washington has expressed mounting concern over North Korea's nuclear and missile tests, and its threats to attack the United States and its Asian allies.
Having all 100 U.S. Senators attend what is essentially an intelligence briefing about a country that has repeatedly threatened the United States with nuclear attack suggests that the President is looking to convince Congressional members that we may need to declare war on North Korea if they refuse to comply with new and existing sanctions.
Given that the United States now has a Naval strike group in the region, China has massed 150,000 troops on the border and Russia is quickly following suit, it appears that it is only a matter of time before a North Korea invasion becomes a reality. As we've witnessed in recent weeks, Kim Jong Un appears to be stepping up his rhetoric, as well as his military aspirations.
While the state has been allowed to run freely for the last decade by ignoring sanctions, President Trump has made clear that he is ready and willing to take military action as evidenced by his missile strike on Syria and most recently, the dropping of the Mother of All Bombs on an Islamic State cave complex in Afghanistan.
North Korea is a different animal altogether. They are reportedly nuclear capable, so there is a real possibility that they could launch a devastating attack on South Korea, Japan or even the West Coast of the United States, leading to hundreds of thousands of casualties and widespread geo-political and economic chaos. Thus, any attack initiated by President Trump will likely result in a response from North Korea, which could ultimately lead to a much wider conflict as we really don't know which side Russia and China are on.
President Trump likely understands the seriousness of the situation, which would explain why he has invited 100 Senators to the White House for an intelligence briefing. Per the Constitution, only Congress can declare war, and it appears this is exactly the direction we're headed.
Related:
Navy Deploys Anti-Submarine Aircraft Off California Coast: "Speculation That A Russian Or North Korean Sub Has Been Spotted"
Tension Builds: Vladimir Putin Mobilizes Troops and Equipment To North Korean Border: "Fears U.S. Is Preparing To Attack"
Report: 50 North Korean Submarines Vanish From Western Radar: Could They Be Armed With Nukes?
The Threat Is Real And Imminent: The Next World War Will Be Initiated By A First Strike Utilizing An EMP Weapon