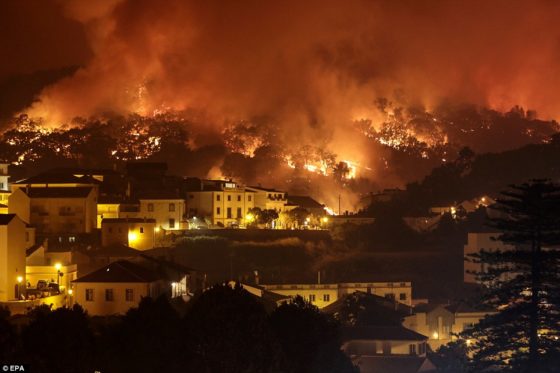 The MacDonald Monchique Resort and Spa, near to the town of Monchique, was evacuated in the early hours of yesterday morning when the fires started to become dangerously close to the resort. The five-star hotel on Portugal's Algarve coast is threatened by the ongoing wildfires caused by the extreme heatwave in the south of Europe.
The MacDonald Monchique Resort and Spa is often frequented by British tourists on vacation. More than 100 people were evacuated from villages near Monchique, in Faro district, on Saturday as two blazes raged close by. According to LAD Bible, the resort is only 20 miles from the holiday "hotspot" of  Portimão. About 700 firefighters have been dispatched to battle the blaze in the 113-degree heat of summer.
According to The Independent, nine emergency workers have been injured since the fire broke out on Friday, although none are thought to be seriously hurt. Vaz Pino, who is the commander of relief operations in Faro, told the media outlet Jornal de Notícias that residents in rural areas were being moved "long before the fire hits" and can cause any bodily harm.  "The fire continues with two active fronts, one of them totally under control and close to extinction and another which continues to burn in an area inaccessible from the ground," he said.
Pino added that so far, the water drops from aircraft have been ineffective at slowing the spread of the devastating wildfires. Portugal's president, Marcelo Rebelo de Sousa, said on Friday that relief workers were prepared for wildfires despite the record-breaking heatwave conditions and could deploy around 11,000 firefighters if needed.
"Fortunately in this abnormal situation we have not had many other incidents like the one in Monchique," he told Publico. "The country has shown that everything is prepared, people have had the good sense and judgment to take precautions and to prevent fires."