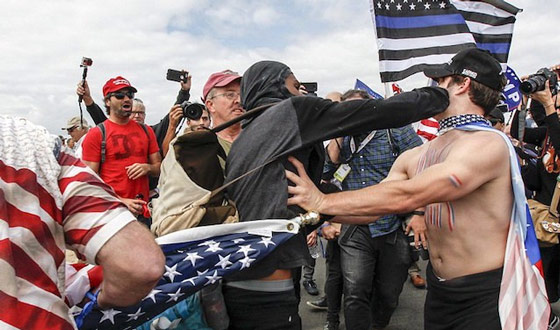 For a bunch of peace loving, tolerance spewing social justice warriors, it sure does appear that the new "progressive" movement in America is rapidly turning to Bolshevik tactics to force their will upon a free and non-violent people.
The latest example of a society on the brink of civil war comes to us from Portland, Oregon, where every year the 82nd Avenue of Roses Business Association kicks of the city's annual Rose Festival with a family-friendly parade.
Except this year, there will be no parade. Organizers have cancelled the event amid threats of violence from groups referring to themselves as "Anti-Fascist." According to The Washington Post, the reasoning behind the threats is reportedly outrage over the fact that the county's Republican Party was given one of the nearly 100 spots in the parade.
Then came an anonymous and ominous email, according to parade organizers, that instructed them to cancel the GOP group's registration — or else.

"You have seen how much power we have downtown and that the police cannot stop us from shutting down roads so please consider your decision wisely," the anonymous email said, referring to the violent riots that hit Portland after the 2016 presidential election, reported the Oregonian. "This is nonnegotiable."

The email said that 200 people would "rush into the parade" and "drag and push" those marching with the Republican Party.

"We will not give one inch to groups who espouse hatred toward LGBT, immigrants, people of color or others," it said.
Earlier this month we reported that members of the so-called anti-fascist, left leaning progressive movements are preparing for war by organizing combat fighting classes and even going so far as to suggest it's time to start bringing guns to such protests as a show of force:
In short, as predicted, they are turning to militancy and mob action by mobilizing individuals and groups to attend combat training seminars, acquiring better equipment like baseball bats and helmets, and of course, if things really go bad… guns.

Yes, we seemed to have lost today. The alt-right held their ground. If we wanna take action against them, we need to be better organized and better trained. It doesn't help that it's only the far left opposing them, any trump supporter can be radicalized far easier than any liberal.

I hope we learn from today

…

A shocking number of our comrades went in there with absolute no combat training. We need to set up seminars or something of the sort.

…

We also need better equipment

Full report: There Will Be Blood: Left Prepares For War After Berkeley Beat Down: "Combat Training, Better Equipment, Guns…"
While these folks may think silencing the free speech of political ideologies contrary to theirs through violence is a means to a worthy end, it was the Bolshevik ideology, similar to what we're seeing from "comrades"  in the anti-fascist movement, that eventually gave way to one of the world's most brutal dictators and was responsible for the deaths of, quite literally, over 100 million people in the 20th century.
On another and perhaps equally interesting note, we'll mention the fact that for years the Department of Homeland Security and domestic law enforcement agencies had warned Americans that it was lone wolves with conservative values who stockpiled guns, food, bibles and peacefully protested government overreach who were, by officials and congressional members, deemed terrorists.
In fact, there were a variety of identifiers used to qualify an American citizen as a potential domestic terrorist:
So how does a person qualify as a potential domestic terrorist?  Based on the training I have attended, here are characteristics that qualify:

Expressions of libertarian philosophies (statements, bumper stickers)
Second Amendment-oriented views (NRA or gun club membership, holding a CCW permit)
Survivalist literature (fictional books such as "Patriots" and "One Second After" are mentioned by name)
Self-sufficiency (stockpiling food, ammo, hand tools, medical supplies)
Fear of economic collapse (buying gold and barter items)
Religious views concerning the book of Revelation (apocalypse, anti-Christ)
Expressed fears of Big Brother or big government
Homeschooling
Declarations of Constitutional rights and civil liberties
Belief in a New World Order conspiracy
We wonder if similar classifications will be assigned to those who threaten families and children at parades?
Related:
There Will Be Blood: Left Prepares For War After Berkeley Beat Down: "Combat Training, Better Equipment, Guns…"
Civil War Is Coming to the U.S.: "Left WILL Resort To Large Scale Violence… To Stop Fascism"
The Simple Reason Why a Second American Civil War May Be Inevitable