This article was contributed by Tom Beck of Portfolio Wealth Global.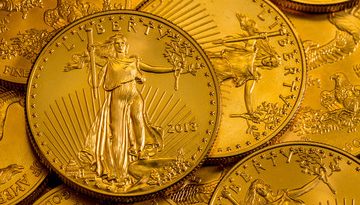 Say what you want about Warren Buffett, but for a man worth $90bn, after donating $37bn worth of Berkshire Hathaway stock in his life, Buffett is VERY HUMBLE. He spends his time playing incognito card games online (usually Bridge) and lives in the same house as when he was just starting out.
Many hate him, while others adore him, but one thing everyone agrees on is that Buffett doesn't appreciate the advantages of gold. Buffett admits that he doesn't know a whole lot about technology, a WEAK SPOT, which has caused him to forego investing in Microsoft for the past 30 years, even though Bill Gates is a very close friend of his!
Buffett realized that his weaknesses could be OVERRIDEN if he hired other money managers to allocate the $130bn that Berkshire has at its disposal. One of these two managers purchased about $600M in Barrick Gold shares in June.
When the 13F filings were disclosed last week, this brought shockwaves, since Buffett isn't crazy about the unpredictability of commodities and their price fluctuations.
It also shows you, though, that Buffett has let go of his need to MANAGE EVERYTHING that Berkshire owns, which is a great character trait.
It's undeniable that DEFICITS MATTER.
Every country is different; for some, deficits can be enormous, since their GDP is huge as well, but all economies have an EXPIRATION DATE.
America is reaching its own breaking point and now everyday citizens will begin to experience THE DOWNSIDE of this, as the dollar will continue to LOSE SUPREMACY, while "on-shoring" will actually bring manufacturing to the states, resulting in a supply chain renaissance.
Buffett has significant ownership positions in American banks, but those HAVE PROVEN to be duds.
Personally, my instincts say that 12 months from now gold will trade at about $2,200, but that there will also be a COOLING-OFF period between now and then for the spot price.
What I'm going to say might sound CONTROVERSIAL, but stick with me: Since the spot price will be flat, the INVESTMENT ACTION will swing to the mining shares, which will be reporting record earnings!
Buffett, looks like this time you DID NOT leave at the bottom, like with the airlines, but entered at the right time… congrats to Warren!