The global chess game never seems to end, and with Russia's latest military move the situation in the oil and gas laden Arctic region of the globe is likely to increase tensions even more.
Russia has just unveiled its newest military base in the north pole, complete with 18-months of sustainable reserves for the 150 soldiers who'll be manning it, as well as an in-house cinema, pool tables and ping pong.
But it's not designed for just fun and games. The base is reportedly capable of housing both, the Mig-31 fighter jet to defend against possible bombing strikes, as well as the SU-34 front line bomber, which is capable of carrying a variety of Russian-made tactical nuclear weapons.
The move is not only an effective strategy to ensure Russian control of parts of the Arctic, but may create an even more concerning security situation for the United States, which intercepted two Russian nuclear bombers just 1oo miles from Alaska on Tuesday.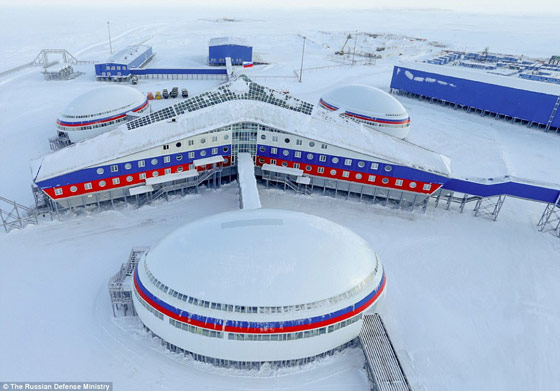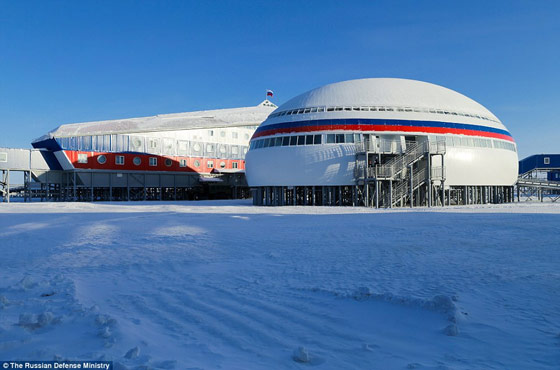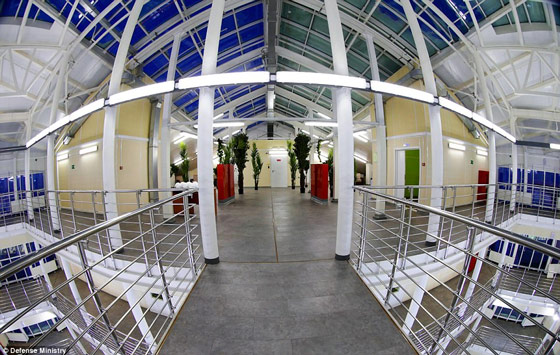 The five-storey complex, named Nagursky by Defense Minister Sergei Shoigu, is on the extreme north of Russia's Arctic frontier.

…

The expansion has far-reaching financial and geopolitical ramifications. The Arctic is estimated to hold more hydrocarbon reserves than Saudi Arabia – and Moscow is putting down a serious military marker.

Under President Vladimir Putin, Moscow is rushing to re-open abandoned Soviet military, air and radar bases on remote Arctic islands and to build new ones, as it pushes ahead with a claim to almost half a million square miles of the Arctic.

…

Officials have said they may deploy military jets there. MiG-31 fighters, designed to shoot down long-range bombers, or the SU-34, a frontline bomber are seen as options, it has been reported.

According to the Moscow Times, it also comes complete with a cinema, table tennis and billiards rooms while a military art studio is also planned.

…

Low oil prices and Western sanctions imposed over Moscow's actions in Ukraine mean new offshore Arctic projects have for now been mothballed, but the Kremlin is playing a longer game.

It is building three nuclear icebreakers, including the world's largest, to bolster its fleet of around 40 breakers, six of which are nuclear. No other country has a nuclear breaker fleet, used to clear channels for military and civilian ships.

Full report: The Daily Mail
Russian soldiers have been training in the region in order to become familiar with the terrain, weather and their military capabilities in the event they are ever attacked: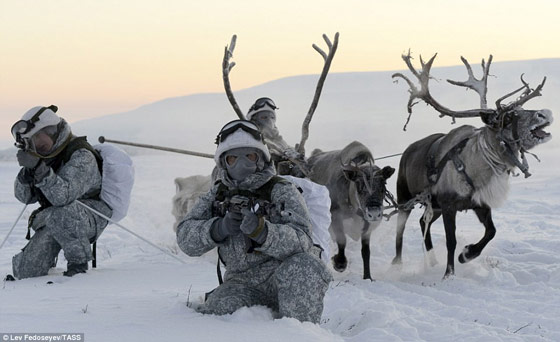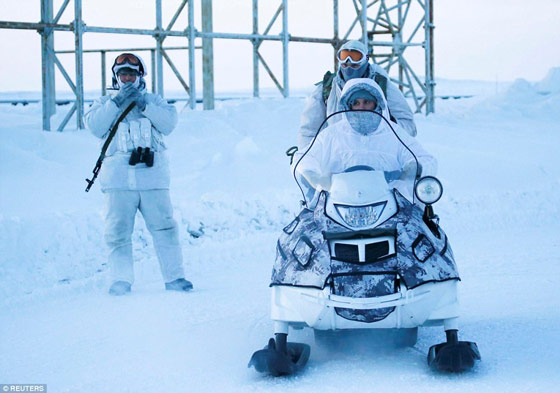 The base is located in Alexandra Land, a Russian island at the top of the earth that was part of the route taken by Nansen and Johansen on their 1895 North Pole expedition: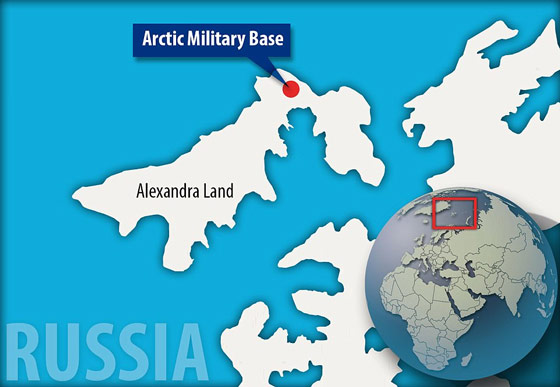 With about 22% of the world's gas and oil reserves under the Arctic sea ice, what was once Santa's Winter play land may soon turn into another internationally contested geo-political hot spot.
Also Read:
US Fighter Jets Intercept Two Russian Tactical Bombers 100 Miles Away From Alaska
Claim: Russia Has Created A Devastating Zircon Hypersonic Missile That Will Rip Right Through U.S. Warships: "Unstoppable… Unbeatable… Undefendable"
Russia Readies Back-up System For Potentially Explosive "Split With International Banking System"