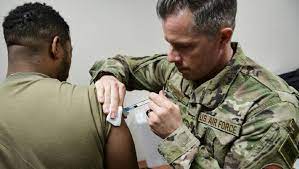 Pfizer's COVID-19 "vaccine" which still isn't a vaccine, but an experimental gene therapy has been given full approval by the Food and Drug Administration for anyone over the age of 16.  The mandates have already begun and it is starting with the United States military.
The Pentagon says it will mandate the shot for all military personnel now that the FDA has granted approval. This is only the beginning. Others who are employed by any government entity will be next.
"We're going to move forward making that vaccine mandatory," US Department of Defense spokesman John Kirby told reporters according to a report by RT. "We're preparing the guidance to the force right now," he stated, adding that the exact timetable for mandating the jab was still being worked out. Early on Monday, the FDA announced that the Pfizer jab had been fully approved for use in the United States. The shot has been administered under emergency-use authorization since mid-December 2020.
The FDA added that the Pfizer vaccine will retain its emergency-use authorization for use in adolescents and for those requiring a third dose due to other health conditions.

Earlier in August, the Washington Post reported that around 65% of active-duty military personnel were fully vaccinated, compared to around 59% of eligible Americans.

Defense Secretary Lloyd Austin has previously encouraged all military personnel to get vaccinated against Covid. "To defend this nation, we need a healthy and ready force. I strongly encourage all DoD military and civilian personnel – as well as contractor personnel – to get vaccinated now and for military service members to not wait for the mandate," Austin stated earlier in August. –RT
Joe Biden has said he already supports making this "vaccine" mandatory.  We should not expect this to stay within the military (government employees) but spread to everyone. The military now has until no later than mid-September to comply with orders to take this shot.  If anyone thinks an exemption is going to work when you are being paid to obey and follow the commands of the ruling class, the delusion is complete.
We all saw this coming.  It's coming faster now.  Unfortunately, those who do not owe their livelihood to the state are likely to still say "no" to this shot. The FDA's opinion on the matter is not going to be valued. Many have decided this "vaccine" isn't for them, and that's the way it's going to be.  But we should expect many others to roll up their sleeves and get the "vaccine" now that the news said the FDA has approved it.
This isn't over. In some ways, it has only just begun.