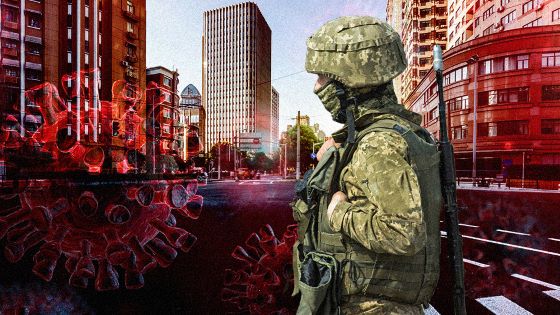 The Pentagon has said that it will deploy active-duty troops to COVID-19 mass vaccination sites across the country in an effort to make sure as many people as possible are vaccinated. The Secretary of Defense Lloyd Austin has approved a Federal Emergency Management Agency request to "augment and expedite" the country's vaccination rollout.
That means FEMA has requested the military under the department of defense to distribute vaccines. This sure sounds like there's a war on us happening right before our eyes. According to a report by NPR (a state-run and funded propaganda outlet) part of the first contingent of more than 1,000 troops will arrive in California over the next 10 days and begin operations around February 15, he added, with more missions to follow.
"The military's critical role in supporting sites will help vaccinate thousands of people per day and ensure that every American who wants a vaccine will receive one," senior coronavirus adviser Andy Slavitt said at a press briefing. What is the military needed for if people actually want this vaccine though? These psychopaths actually think people want this toxic concoction injected into them or they intend for it to not be voluntary.  Either way, the show of force is unnecessary if this was something the public wanted.  Meaning for all intents and purposes, there will be ways to force or coerce people into taking this thing, even if they don't want to.
The move is what Slavitt characterized as part of the Biden administration's "whole of government" approach to combating the coronavirus pandemic, in which the vaccine plays a crucial role.

President Biden has pledged to distribute 100 million vaccine doses in his first 100 days in office. The U.S. is already meeting the targetpace of 1 million doses a day, and Biden said recently he may up that to 1.5 million. –NPR
As we all know, government is slavery, so the rulers are going all-in on making sure the slaves get vaccinated.  As part of that effort to vaccinate all of the slaves, Biden said FEMA would help set up 100 mass vaccination sites in his first month in office. FEMA has asked the Pentagon to ready up to 10,000 troops to support those sites, with the goal of dispensing 450,000 vaccinations a day nationwide.
Whenever FEMA sets up any "sites" or "camps" the public should raise some eyebrows and start asking questions. This could get ugly and turn sinister at any moment.
Stay alert and prepared.  Things are happening quickly under the radar and most Americans are still unaware of it.  Use your own discernment and make sure you have a plan if events unfold unexpectedly in your area.  Godspeed, preppers.