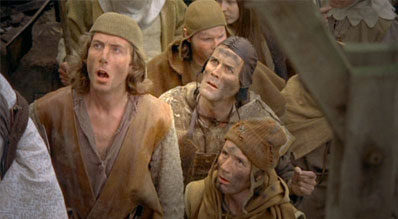 OK, so celebrity news is usually out of bounds here, but this story takes the cake.
It's also a flashy tidbit from the up-and-comers in the ruling class that will be lording over the rest of us in the decades to come.
Several outlets today carried reports from a July incident on board a British Airways flight where Hilton hotel heir Conrad Hilton III set loose on a 10 hour tirade, complete with violent attempted attacks, death threats and sporadic insults at the passengers and crew. From the Washington Post:
Meet Conrad Hilton III, younger brother to Paris and some kind of royalty in his own mind, it appears.

Hilton is accused of causing a ruckus July 31 aboard a more than 10-hour British Airways flight from London to Los Angeles. Flight 269 landed safely in Los Angeles without being diverted, but Hilton is now facing federal charges.

After turning himself in, the 20-year-old, very wealthy man-child appeared in court Tuesday, accused of threatening the flight crew, smoking aboard the plane, making children cry with his profanity-laced tirades and calling everyone who dared be annoyed by his antics "peasants."

[…]

"I told all of them I could get all of their jobs taken away in less than thirty seconds," Hilton said, according to the complaint, as he recalled his interactions with flight attendants.

He credited a man at the back of the plane with stopping him from killing a flight attendant. "If that man wasn't there, that guy [the flight attendant] would have been ____  killed on that flight. A hundred percent I would have killed him," Hilton said.
All this, and more, was blamed on an alleged sleeping pill that Hilton's lawyer Robert Shapiro claimed 20-year old Conrad had taken, causing him to act unlike himself. According to the complaint, Hilton was blocking the aisle and preventing the attendants from serving drinks during in-flight service. He reportedly:
complained that the flight attendants were ignoring him or "taking the peasants' side." He whined about being upset because he broke up with his girlfriend, one flight attendant said. He bragged that his daddy would bail him out of this situation as he had in the past.
And that was apparently before things really got ramped up. Throughout the tumultuous flight, as TMZ note, the FBI report claims that:
Witnesses told officials Conrad grabbed a flight attendant's shirt and said, "I could get you all fired in 5 minutes. I know your boss! My father will pay this out. He has done it before. Dad paid $300k last time."

According to witnesses, Conrad was heard yelling the following things during his meltdown:

— "If you wanna square up to me bro, then bring it and I will f*cking fight you."
— "I am going to f*cking kill you."
— "I will f*cking rip through you."
— "I will f*cking own anyone on this flight; they are f*cking peasants."

Witnesses say … at one point during the flight, Conrad was ferociously punching the bulkhead of the plane … 10 centimeters from a flight attendant's face.
Hilton displayed the arrogance and reckless behavior of a lesser Great Gatsby character of old, oblivious not only to the lives of the little people, but even oblivious to the work done by his predecessors who earned his inherited fortune he so obviously feels entitled to.
The report of the incident, based on an FBI interview with Conrad Hilton III, not only demonstrates a spoiled elite brat caught in a misbehaving scandal, it shines light on attitudes of those on the other side of the the ever-widening wealth gap – most of "them" are now miles away from "us" and exhibit a respective coldness towards the masses they have so little in common with.
The size of the wealth gap can hardly be overstated, with Forbes' reporting that just 67 individuals hold a net worth equal to that of the world's 3.5 billion poorest – less than 100 people have more money than the entire bottom half.
And while the Hilton family ranks as super rich, they don't even come close to the richest. Hilton Hotels sold to Blackstone in 2007 for some $26 billion, which has since been split up among various heirs and other stakeholders.
Typically, there is a veil between the super-rich and the rest that conveys respectability and power, but once in a while something else shines through.
While Hilton's verbal tirade gave us a glimpse into that mentality, he is hardly the only member of the elite class to disregard "the peasants." In 2009, Bloomberg reported that Goldman Sachs executives were arming themselves with gun permits, lest they should feel the need to stave of an attempting lynching by the peasants:
Plenty of Wall Streeters worry about the big discrepancies in wealth, and think the rise of a financial industry-led plutocracy is unjust. That doesn't mean any of them plan to move into a double-wide mobile home as a show of solidarity with the little people, though.

No, talk of Goldman and guns plays right into the way Wall-Streeters like to think of themselves. Even those who were bailed out believe they are tough, macho Clint Eastwoods of the financial frontier, protecting the fistful of dollars in one hand with the Glock in the other. The last thing they want is to be so reasonably paid that the peasants have no interest in lynching them.
Hilton's trial is coming up in March; he could face 20 years on federal charges, but many have surmised that 'daddy's money' could knock that down to probation and rehab, or something similar.