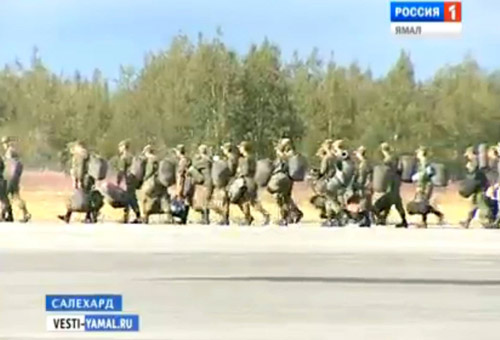 (Russian troops prepare to board a plane to infected region of Northern Russia)
The Russian military has reportedly sent biological warfare teams to the Russian arctic in northern Siberia after at least 40 people and 1,200 reindeer died as the result of a violent and rapid spread of what is believed to be Bacillus Anthracis, more commonly known as Anthrax.
Russian officials said the infection may have started after a contaminated corpse was exposed following a warm summer in the Arctic which saw temperatures rise as high as 95 degrees Fahrenheit.
There were dramatic scenes as the Russian army's Chemical, Radioactive and Biological Protection Corps, equipped with masks and bio-warfare protective clothing, flew to to regional capital Salekhard on a military Il-76 aircraft to deal with the emergency.

They were deployed by Defence Minister Sergei Shoigu to carry laboratory tests on the ground, detect and eliminate the focal point of the infection, and to dispose safely of dead animals.

…

"As of now, there is no single diagnosis of the dangerous infection," said a spokesman for the governor of Yamalo-Nenets, Dmitry Kobylkin.
Officials  noted that they are not certain Anthrax is the sole cause and another biological agent may be to blame. Because of the remote location of the outbreak the situation has been, for the most part, contained according to Russian officials.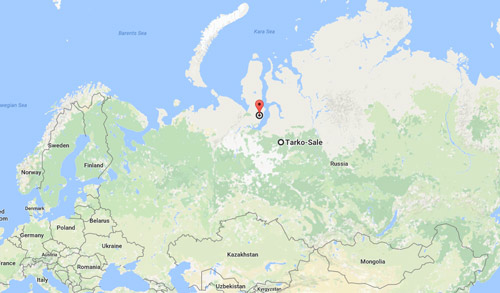 (Regions north of Tarko Sale are the focus of the outbreak)
The claim that the Anthrax infection originated in nature sounds legitimate enough, but one can never discount the possibility of the involvement of state-sponsored or rogue assets, as has been noted in a recent release of U.S. government documents which expose widespread human experimentation programs utilizing chemical, biological and radiological weapons:
"…we have identified hundreds of radiological, chemical, and biological tests and experiments in which hundreds of thousands of people were used as test subjects. These tests and experiments often involved hazardous substances such as radiation, blister and nerve agents, biological agents, and lysergic acid diethylamide (LSD). In some cases, basic safeguards to protect people were either not in place or not followed. For example, some tests and experiments were conducted in secret; others involved the use of people without their knowledge or consent or their full knowledge of the risks involved."
The Russian Arctic emergency highlights the importance of protective CBRN equipment that can be deployed quickly in the event of a rapidly spreading biological infection, chemical gas, or radiological threat.
Related:
The Most Advanced Tactical Gas Mask In The World
The Prepper's Blueprint: A Step-By-Step Guide To Prepare For Any Disaster
CDC Covered Up "Catastrophic Failures" At Level-4 Biosafety Labs Containing Ebola and Smallpox
Report: Weapons Of Mass Destruction Have Been Smuggled Into Europe: "Chemical, Biological, Radiological, Nuclear"