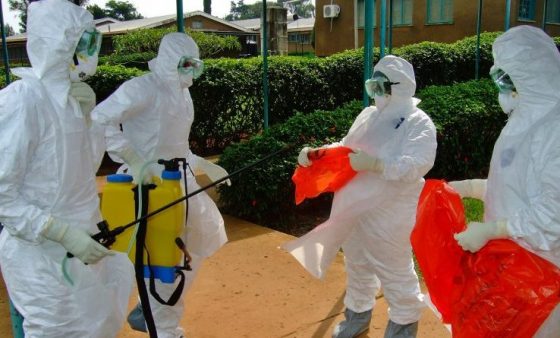 Panic is setting in after a nine-year-old girl died suddenly of "eye bleed fever" in Uganda. This new virus is said to be even more dangerous than the "Black Death," killing 40 percent of those who contract the disease, and four have died already.
East Africans are fearing this will be a health crisis of epic proportions. Health officials rushed to put the body of the deceased girl in a bag and to decontaminate the home she lived in not long after the disease took her life. This particular illness, known as the "eye bleed fever" is said to be even more deadly than the horrific bubonic plague that ravaged Madagascar late last year. 
The feared outbreak comes only months after hundreds of people were killed by the plague in Madagascar in what was described as the worst bout in 50 years. The symptoms of this new disease include headaches, bleeding, vomiting, diarrhea, and muscle pains, according to the Daily Star Sunday. The virus also leaves people bleeding from their eyes, mouth, and anus. Symptoms escalate when a person infected with the virus comes down with a fever, then begins vomiting blood.
This virus is thought to be spreading through South Sudan.
This viral disease was first identified in 1944 and more than 5,000 cases of the deadly bug have been reported worldwide since then. The widespread disease is caused by a tick-borne virus (Nairovirus) and a total of 52 countries have reported a substantial number of cases each year. The disease has made its presence known in Russia, throughout the Mediterranean, northwestern China, central Asia, southern Europe, Africa, the Middle East, and the Indian subcontinent.
Unlike the Black Death, which is a bacterial infection and can be effectively treated with antibiotics, "eye bleed fever" has no cure. So far, four people have died in the worsening outbreak in Uganda. Health Chiefs continue to warn that the spread of this disease could be "catastrophic." Around 60 people have now been infected in East Africa.
The viral disease is transmitted to humans through tick bites, or through contact with the blood of infected animals, especially during slaughter. Human-to-human transmission can occur resulting from close contact with bodily fluids.
Authorities at the hospital said the body would be buried by health teams because of "sensitivity" about the disease spreading. The three victims in South Sudan, who died in late December, had no history of close contact and unlike the young girl who died, their burials were unsupervised.