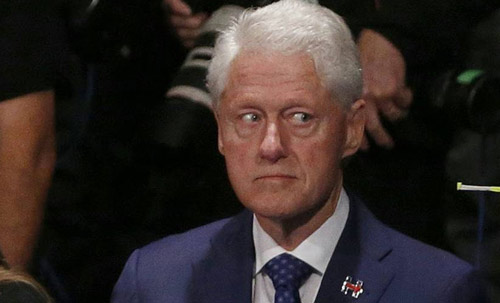 Lest you thought the parading around of Bill Clinton's accusers and alleged rape victims was nothing more than an election stunt, check out this series of Tweets that has once again stirred the pot.
It seems that Juanita Broaddrick is not the least bit prepared to let it go – since she remains a victim who is outraged that her alleged perpetrator remains free and highly distinguished in world affairs.
The assumption is that they are above the law, but they certainly aren't above a Twitter spanking:
Well, since you asked, Here's my definition of horrifying, sick & awful. Answer: Your father, Bill Clinton pic.twitter.com/UvpB64FP9P

— Juanita Broaddrick (@atensnut) February 17, 2017
Unsurprisingly, @ChelseaClinton's original tweet was apparently deleted from her feed – but not before being screen captured and embedded:
I see Chelsea clinton deleted her tweet I answered. I did screenshot of it for my tweet thinking that might happen. ?

— Juanita Broaddrick (@atensnut) February 18, 2017
Apparently, Chelsea is not interested in delving into that topic, or defending the actions of her parents besides a surface level endorsement of them.
Some people reacted by blasting Broaddrick for 'disparaging people's children' – a comment that she laughingly dismissed by pointing out that Chelsea is now 36 years old – and older than Broaddrick was at the time of her rape:
@atensnut @SKIPdaZIP Don't disparage people's children! You're only showing your own character! Too much meanness in this World!

— Jeanie (@jnesky88) February 17, 2017
@jnesky88 @SKIPdaZIP you idiot she's no child. She older than I was when her father raped me.

— Juanita Broaddrick (@atensnut) February 18, 2017
A predictable Twitter storm has erupted – since Tweeting & deleting is always more conspicuous, and the fallout has begun:
@atensnut @Cops4trump16 @jnesky88 @SKIPdaZIP
Chelsea Clinton knows exactly what her father is. #GlassHouse#ThrowingStones
Go Juanita!

— Monique Jones (@nickisuz) February 18, 2017
@aluminumpatriot @atensnut @JustMy_NameHere @ChelseaClinton @HillaryClinton @billclinton She had it coming.. pic.twitter.com/ep92ZNGyu4

— Tom Oswald (@TomOswald1966) February 17, 2017
Sweet burn, Juanita. Show them no respect. @atensnut

— New York City Crime (@nyccrimereport) February 17, 2017
It is quite obvious that many people would prefer to see the Clinton's leave politics altogether – not only their opponents on the right, but also the millions of leftists who witnessed the Democratic party taken over during the round, only to put up a candidate who is mired in controversy and scandal, and lacked the energy to carry on a full campaign.
Instead, Hillary is threatening a 2020 run (even if it is utterly absurd), and Chelsea is being groomed to be an irrelevant dynasty heir or media pawn.
Read more:
"One Look Admits So Much Guilt": Bill Clinton's Reaction As Trump Names Ex-Pres Rape Victims
Criminal Roots: A shocking exposé on the Clinton family and their rise to power
Trump Calls Out Hillary at Debate: "You Should Be in Jail… I'll Call A Special Prosecutor"
Uncovered Footage: Watch This Video Of Bill Clinton Actually Grabbing A Woman By The P***y