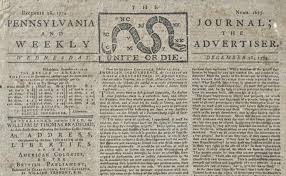 Workers at a Goodwill collection center in Bellmawr, New Jersey, discovered pages from a very rare historical newspaper among donations.
An unknown donor dropped off four framed pages from an original 1774 Philadelphia newspaper that predates the Revolutionary War and features a "Unite or Die" snake design.
The Dec. 28, 1774, edition of the "Pennsylvania Journal and the Weekly Advertiser" is quite the find. It features three items signed by John Hancock, then president of the Provincial Congress, who pleads for the Colonies to fight back "enemies" trying to divide them, reports the Associated Press.
The paper also includes an advertisement for a lecture by famous Philadelphia physician Benjamin Rush, ads offering rewards for lost horses and runaway apprentices, and an ad in which the poster insists he will no longer pay his "misbehav(ing)" wife's debts.
When unique items are donated to Goodwill, they are sent out for appraisal, Heather Randall, e-Commerce Manager for Goodwill of Southern New Jersey and Greater Philadelphia, explained to NJ Pen.
Randall and her team specialize in identifying high-value items and collectibles that have been donated to the processing center. Most are sold on the company's auction website, ShopGoodwill.com.
"We get a lot of stuff from all over, and it's amazing," Randall said. "There's some really neat provenance to these things."
In case you are wondering if the newspaper is the real deal, NJ Pen reports:
An analysis returned by Robert Snyder of the New York, New York-based Cohasco, Inc. identified the paper as "unquestionably authentic" and "of perennial desirability."

The only other known copies of the paper from that date are stored at Illinois State University, the University of Chicago, and Yale.

The December 28, 1774 edition, which was printed by William and Thomas Bradford of Philadelphia, is one of a few with the "short-lived 'Unite or Die' masthead" known to have survived today, Snyder wrote.
Snyder told the Associated Press a bit more about the paper:
"It's only three or four months until the first actual shots of the revolution were fired. So by this time, everybody was good and mad," said Snyder, who said newspapers of the day were more partisan than today, although the level of debate was more highbrow. The Pennsylvania Journal was published by William and Thomas Bradford, who came from a distinguished local family of booksellers and printers.

"They obviously had a very strong belief system. They were willing to risk their lives to publish," he said.
Goodwill attempted to sell the paper at auction on the company's website, but didn't get a buyer.
Ideally, the company would like to return it to its original owner, or to place it with a private collector or a museum, Randall said.
If sold through the right brokerage, Snyder estimates the pages could be sold from $6,000 to $16,000. Randall said Goodwill Industries would use the funds for its educational and job-training services.