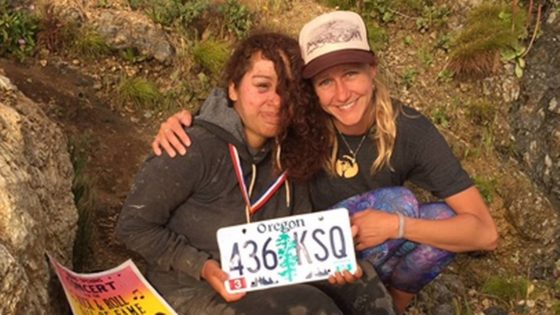 A woman from Oregon was found alive after crashing her SUV in Big Sur, California.  Angela Hernandez survived for seven days in the wreckage of her Jeep Patriot by siphoning water from a nearby creek.
Using the radiator hose of the crashed vehicle, Hernandez was able to siphon water from the creek at the bottom of a rocky oceanside cliff in Big Sur, California.  That alone kept her alive for seven days, according to multiple media sources.  According to CNN, Hernandez, who is only 23-years-old, was able to walk and talk once found, although she injured her shoulder in the crash. John Thornburg, the public information officer for the sheriff's office in Monterey County, California confirmed the information.
She was driving from Portland to visit family in Lancaster, in Southern California. One of the last times Hernandez was heard from was when she sent a text message around 10 p.m. July 5. The message said she was tired and stopping to sleep in her car at a grocery store parking lot in Half Moon Bay, in San Mateo County, said a missing person flier.
We are trying to help a family find Angela Hernandez, a 23 year old from the Portland area. She was traveling from Oregon to Southern California to visit family when the family suddenly stopped hearing from her. She was last heard from in HMB and is driving a wht Jeep. More on FB pic.twitter.com/68usKkEK3w

— San Mateo County S.O (@SMCSheriff) July 9, 2018
Hernandez has apparently lost control of her SUV and ran it off Highway 1, the north-south highway that hugs the Pacific coastline. The next morning, July 6 at about 8 a.m., Hernandez once again notified her family she was continuing her drive south.
After that, no more texts were sent. Calls to her cell phone went straight to voicemail. Law enforcement agencies began looking for Hernandez on July 6, after her family had reported that she'd stopped customarily communicating with them. She was both a texter and a frequent user of social media and the lack of communication on both was highly unusual, authorities said. Hernandez's vehicle had been in Monterey County about 9:30 a.m. on July 6, authorities said, because her license plates and SUV were was captured on a business security camera, according to the San Mateo Sheriff's Office said on Twitter.
Late Friday, two people from Morro Bay were hiking in Big Sur and noticed the SUV wreckage at the bottom of a cliff, Thornburg said. Chad and Chelsea Moore went back to their campsite and called 911, he said. Multiple agencies then responded to the remote location and brought Hernandez back up to the roadway. She was transported by ambulance to a waiting helicopter, then taken to Twin Cities Community Hospital in Templeton, SFGate.com reported.
Hernandez told the local authorities that she crashed attempting to avoid hitting an animal on the road. "My sister is alive, she's talking, and she's still trying to come to understand everything," Angela's sister, Isabel Hernandez, wrote on Facebook Saturday morning. "She's a fighter and she fought this long and she will continue to. It's not going to be an easy recovery. I hope everyone will have patience for her and her recovery."
A survival kit tossed under the seat of the car or put in a glove box could have come in handy.  If you don't yet have one for your vehicle, consider getting one, just in case the worst happens. Check out the link below for some of the most popular and best-rated kits you can find.