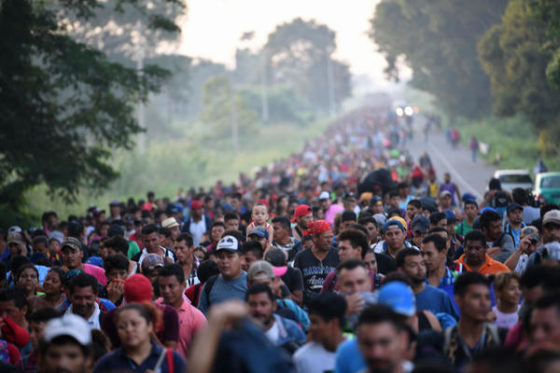 Hundreds of United States troops are set to make their way to the southern border to help the Department of Homeland Security and the National Guard stop a migrant caravan coming from Honduras. A U.S. official has said that roughly 800 soldiers will be sent to the area to offer "logistical support," including providing tents and vehicles.
According to Fox News, Defense Secretary James Mattis could sign the deployment orders as soon as today. This is in direct response to president Donald Trump's threat to send troops to the border.
https://twitter.com/realDonaldTrump/status/1052885781675687936?ref_src=twsrc%5Etfw%7Ctwcamp%5Etweetembed%7Ctwterm%5E1052885781675687936&ref_url=http%3A%2F%2Fwww.shtfplan.com%2Fheadline-news%2Fas-honduran-caravan-reaches-the-border-trump-threatens-to-send-in-the-military_10182018
There are currently 2,100 National Guard troops on the southern border assisting Homeland Security. Trump's tweet earlier today said: "I am bringing out the military for this National Emergency. They will be stopped!"
https://twitter.com/realDonaldTrump/status/1055414972635926528
As of Thursday, the migrant caravan is still in southern Mexico, which is more than 1,000 miles away from the nearest entry point into the U.S. Its size is estimated to be around 7,000, but many of those currently walking are suffering from exhaustion, dehydration, and heat stroke.
"They are going to walk as long as they can," said caravan member Brian Colindres, "or as far as they can."
A majority of those walking say they are looking for a better life north of the border are fleeing poverty and violence in Honduras, where the caravan originated. They are exhausted and unaware of what will happen – but they remain optimistic in spite of the U.S. government's opposition.
According to CNBC, sickness and harassment are chipping away at the caravan already. Jose David Sarmientos Aguilar, a 16-year-old student from San Pedro Sula, Honduras, was one of at least 80 migrants waiting in the town square of Huixtla, where the rest of the caravan departed Wednesday morning, for four buses that would take them back to Honduras.  Sarmientos joined the march "without thinking about what could happen and the consequences it could bring," he said. He said the death of a migrant who fell off a truck Monday and vague rumors of two migrants killed in Huixtla have also forced him to return. "There have been a lot of tragedies. It's not necessary to go on losing more lives to reach there (the U.S.)," he said. "I am a little sick in the chest. I have a cough. And so instead of risking getter sicker and something happening to me, it's better to go home."
But it's unclear exactly how many have chosen to return home in comparison to how many have joined the caravan along the way.
This caravan is ongoing and as such, the story is still developing. We will do out best to keep you updated as the migrants approach the border.