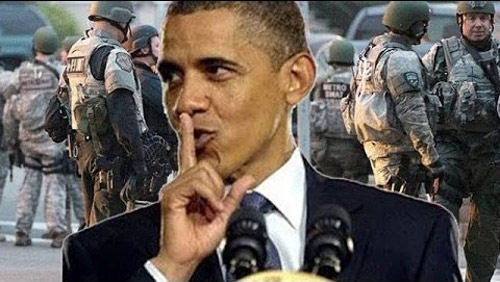 This article was written by Tyler Durden and originally published at Zero Hedge.
Editor's Comment: You didn't think Obama was going just go away, did you? To the contrary, professional protesters, and an organized, astroturf opposition to President Trump will be ongoing. With BLM played out, and the public weary of whiny protests, former President Obama is looking to stir things up, to find a post-presidency purpose and instigate things with a flare of the Weathermen. His brand of crocodile tears for the victims, and shameless 'organizing' at every politically-expedient opportunity, Obama can keep things permanently divided. He can retire Al Sharpton and Jesse Jackson, and one up them both with the persona of an ex-president who knows he will be canonized, memorialized in statue and glossed up to the fullest in the pages of history…
 Gerrymandering the districts and pumping out the inflated voter rolls is just the beginning; this is war of optics and data, and Barack Obama is the quintessential mold of the 21st Century president – rolls with the memes, tabulates every click, lists every email address, and connects with voters on a targeted, honed-in demographic outreach level. For the millions of disaffected liberals and Democrat party faithfuls, Obama can revitalize a following that Hillary withered out, and drained of all its energy. They won't give you Bernie, but they will give you Barry. Ladies and gentlemen, a second act.
Holder Foretells The Return Of Obama: "He's Coming, And He's Ready To Roll"
by Tyler Durden
Barack Obama, after making the very difficult decision to proceed with Penguin Random House to publish his and Michelle's White House memoirs in a deal rumored to net him about $60 million, is, at least according to old pal Eric Holder, ready to take his place at the helm of the democrats' Trump opposition efforts.  Of course, this breaks with the tradition upheld by most former Presidents who have chosen to not publicly criticize their successors…but the rules don't really apply to Obama now do they?
According to Holder, Obama's triumphant return to politics will be focused on, among other things, fundraising (his specialty) and assisting the National Democratic Redistricting Committee (NDRC) in its efforts to redraw congressional districts to give Democrats a leg up in the House of Representatives.  Per Politico:
Barack Obama is getting closer to making his public reappearance in politics, his friend and former Attorney General Eric Holder said on Tuesday.

Holder said he's been talking to the former president about ways — including fundraising and interacting with state legislators — that could help the new National Democratic Redistricting Committee, which Obama asked Holder to chair last year.

"It's coming. He's coming," Holder said, speaking to reporters at a briefing for the new group. "And he's ready to roll."

Throughout, Holder said, Obama "will be a more visible part of the effort."
As Holder notes, he and the former President will join forces in an epic "battle for our democracy" that will revolve around redrawing maps to benefit his chosen party
The NDRC is looking to be an intensified central force for Democrats to tackle their disadvantage in gerrymandering. The mission is to direct resources into winning targeted state elections, push ballot initiatives for nonpartisan district-drawing commissions and wage legal challenges to existing maps. The hope is that this would put Democrats in a stronger position in state houses, but also in the U.S. House of Representatives, if districts are drawn that more accurately represent the distribution of the popular vote, citing statistics that showed Republicans winning 49 percent of the vote in those elections but getting 55 percent of the seats in the 2016 elections.

"This is really a battle for our democracy," Holder said. "The notion that people are denied their ability to cast a meaningful vote … is inconsistent with who we say we are, inconsistent with what we say our democracy is about."
Of course, we're sure that Holder's intentions are every bit as pure as he says they are and he is in no way motivated to go out and file a bunch of gerrymandering lawsuits just because it will net his law firm, Covington & Burlin, as well as himself, million of dollars in fees.
As we noted before, Holder was also "honored" recently to win a mandate from California, even though no one has any idea what he's been retained to do, which will also undoubtedly result in $10s of million of dollars in bribes fees for his new law firm.
"I am honored that the Legislature chose Covington to serve as its legal adviser as it considers how to respond to potential changes in federal law that could impact California's residents and policy priorities," Mr. Holder said in a statement. "I am confident that our expertise across a wide array of federal legal and regulatory issues will be a great resource to the Legislature."

The Legislature has an ample stable of lawyers on staff, but officials said Mr. Holder and his firm brought specific litigation and political skills that could be needed in the coming years. Mr. de León said the final compensation for the firm had not been set, but would be publicly disclosed once it was.
As a reminder, Holder made history back in 2012 when he became the first Attorney General ever to be held in contempt of Congress over his failure to turn over documents related to the Fast and Furious scandal which involved selling guns to Mexican drug cartels.  The scandal erupted on the national stage when one of those guns was confirmed to have been used to kill a U.S. border control agent, Brian Terry.
Good to see Obama's former staff embracing "The Swamp" that Trump has vowed to drain.
This article was written by Tyler Durden and originally published at Zero Hedge.