Thing are heating up on the streets of America, as #Occupy protests continue to rage in multiple U.S. cities.
Yesterday, the city of Oakland attempted to disperse crowds. Protesters, exercising their Constitutional protections of free expression, assembly and redress of grievances, refused to move.
Occupy Oakland demonstrators clashed all over downtown Oakland on Tuesday night with police who lobbed tear gas at least three times in futile attempts to fully disperse the more than 1,000 people who took to the streets after the early-morning raid of the movement's encampment.

The rolling protest came about 12 hours after hundreds of police from across the Bay Area rousted about 300 people from the two-week old camp at Frank H. Ogawa Plaza. Tensions escalated after protesters vowed to return to the plaza, which was left with tents overturned and food, carpet, personal belongings and mounds of trash strewn on the lawn.

"We had to deploy gas to stop people from throwing rocks and bottles at police," said Interim Police Chief Howard Jordan, adding that he was unsure about what other crowd control methods were used by outside police agencies. There were unconfirmed reports that flash-bang grenades and wood dowels were launched at protesters.

Source: Mercury News
This is just phase one and for the time being the protests are muted compared to what we expect to see over coming months and years.
The police did use flash bang grenades. Confirmation provided by Market Ticker: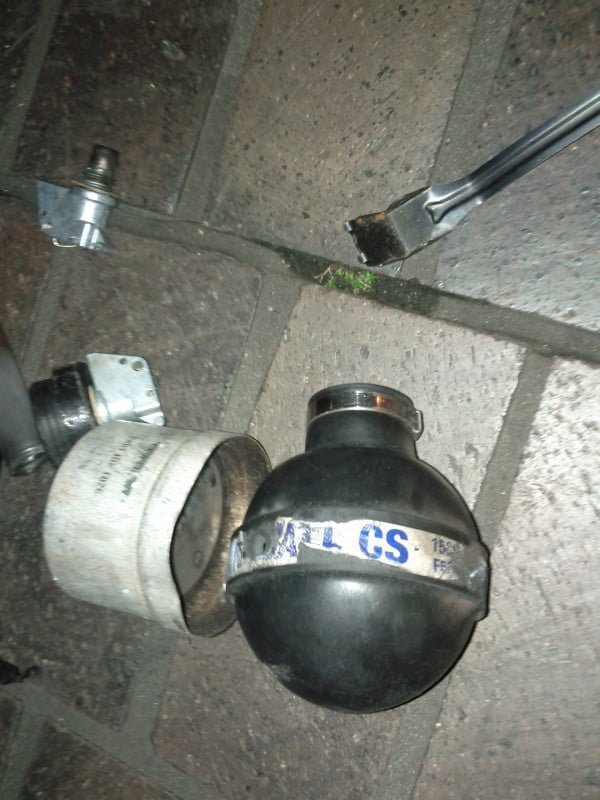 Veterans for Peace member Scott Olsen was wounded by a less-lethal round fired by either San Francisco Sheriffs deputies or Palo Alto Police on October 25, 2011 at 14th Street and Broadway in Downtown Oakland:
After warnings to disperse, Oakland PD fires tear gas and bean bags into the protesting crowd:
Karl Denninger on protests, the rule of law, and government sponsored criminality:
I don't care if you hail from the left or right, or what your particular view of the "Occupy Wall Street" movement is.  The fact of the matter is that we no longer have the foundational principle of this nation underlying our nation: The Rule of Law.

That's the difference between a Constitutional Republic and tyranny.

In a Constitutional Republic you do not have the rule of 100 jackbooted thugs wearing badges, discharging firearms (albeit – thus far – with rubber bullets) at people, tossing bombs into their midst and gassing them.  You also don't have jackbooted thugs in blue shooting unarmed people in the back.  Any rogue individual who attempts such a stunt goes straight to prison to rot along with the common mugger or murderer, because he or she is one and should an entireagency show up to commit these acts the immediate response is that the National Guard rises and arrests the entire agency, tossing all of them into the clink where they belong.

Today, however, this sort of abusive crap is exactly what we have in this nation and The Guard, who has sworn an oath to protect this land against all enemies, foreign and domestic, is nowhere to be found.

Those in California (along with those in both New York and Chicago) are discovering the hazards of their failure to demand that entire Constitution be strictly enforced in favor of the rights of the people.
The people have been abused on all fronts. They've been robbed of their pensions, savings and purchasing power by corporatists and politicians who live by a different set of laws than do the people on Main Street. Now, as they seek redress, they are arrested, beaten, gassed and shot by less-lethal ammunition (less lethal for the time being).
And if you think this bad, just wait until the motivation for protests turns from animosity about student loans and income inequality to despair and anger about putting food on the table. Complexity theorists have warned that a global food crisis fueled by price inflation is imminent and a tipping point will be reached between July 2012 and April 2013. The consequences will not be pretty.
In 2009 trend forecaster Gerald Celente predicted tax protests, student revolts, general strikes, and tent cities. All have come to pass. In addition to what we're seeing happen right now, he predicted even more, coming soon to a major metropolitan near you: food riots, squatter dig-ins, homeless uprisings, farmer rebellions, boss nappings, kidnappings, mob rule and terror.
Before this is all said and done, there will be bloodshed. Lots of it.
Once we cross the rubicon, and the people rise up en masse and en force, you can fully expect martial law to be declared to 'normalize' the situation (some cities have already called for it – before the protests ever started – as a measure to reduce crime!).
This is where we're headed.