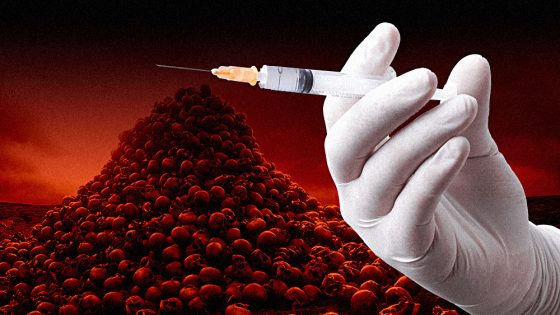 New York state is in a predicament of their own making, and many other states look poised to follow suit.  After making the COVID-19 "vaccine" mandatory for healthcare workers, hospitals began firing workers on Monday.  Now the governor is trying to decide if replacing those workers with the national guard is a good idea.
Anyone in the national guard (and any military branch for that matter) is going to have to make a moral (not legal) judgment call really soon.  Just how far is the military willing to go to serve the psychopaths desperate to keep their power? We are likely, sadly, going to find out.
NY Hospital to Pause Delivering Babies After Maternity Workers Quit Over Vaccine Mandate
On Monday, New York hospitals began firing or suspending staff who have defied the order to get vaccinated. Tens of thousands of healthcare workers in the state may have refused to take the shot, according to The Washington Post.  To address potential staff shortages, the governor has allowed doctors, nurses, and social care workers from other states and countries to practice in New York, and cut some red tape in terms of registration of healthcare professionals, among other measures.
Tonight I signed an executive order to take bold action to alleviate potential health care staffing shortages following our vaccine mandate that keeps all New Yorkers healthy and safe. pic.twitter.com/dIAGl0DH5z

— Governor Kathy Hochul (@GovKathyHochul) September 28, 2021
"The only way we can move past this pandemic is to ensure that everyone eligible is vaccinated, and that includes those who are taking care of our vulnerable family members and loved ones," Hochul said after declaring a statewide disaster emergency.
The governor will also monitor "whether the deployment of medically-trained National Guard members may be necessary to execute at any point," according to her office. State officials said the percentage of fully vaccinated hospital staff has grown from 77% to 84% since early August. They added that preliminary self-reported data shows 92% of hospital workers have received at least one dose of the vaccine, according to a report from RT. 
"This Is Completely Avoidable" – New York Hospitals Prepare For Staffing Crisis As Vaccination Mandate Forces Mass Firings
The only good news about any of this is that the rulers are pushing so hard, they've destroyed the illusion of freedom. We were never free. We have always been slaves and people are finally realizing it.
We are living under a dystopian tyranny. If anyone can remove your source of income for any reason (taxation, refusal to be injected, etc.) you are a slave. We knew this was coming. We have been preparing for it.  Sadly, we need more people to open their eyes and see it.  Get your last-minute preps now. Try to eliminate stress, worry, and doubt by having plans. Most importantly, stay strong, and remain unfearful.  These sociopaths feed off of fear.