The following article was originally published by Joshua Krause at Tess Pennington's Ready Nutrition.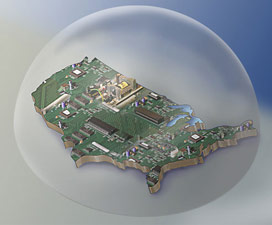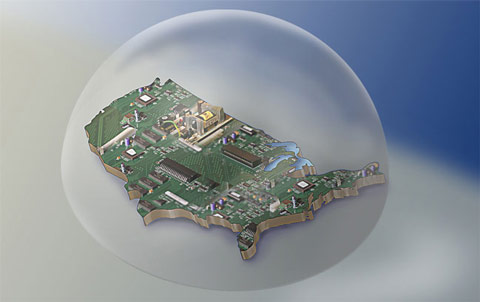 (Image Credit: Zina Deretsky, National Science Foundation)
Tech Company Develops the World's First EMP-Proof Wallpaper
By Joshua Krause
If you've ever done any research on the effects of an EMP, you've probably heard about a Faraday cage. If you're not familiar with it, a Faraday cage is capable of blocking electromagnetic waves with a porous metal mesh. Since the metal is conductive, it disperses the energy in a way that prevents it from entering the interior of the cage. That makes it an excellent tool for protecting electronic devices from the effects of an electromagnetic pulse.
Unfortunately, Faraday cages aren't always convenient, on account of them being heavy metal cages. However, a technology firm out of Utah known as Conductive Composites, has just invented a new material that could revolutionize the way you protect your electronics.
Conductive Composites  has created a method to layer nickel on carbon to form a material that's light and mouldable like plastic yet can disperse energy like a traditional metal cage.

'Our materials integrate game-changing conductivity and shielding performance as part of a multifunctional materials system, while preserving the basic weight, cost, structural, environmental, and manufacturing performance advantages of composites and plastics,' the firm says.
In fact, it's so light, thin, and flexible, that you could apply it like wallpaper to protect an entire room. The company claims that their material can even be incorporated into paints and concrete. These attributes have the potential to make it easier and more affordable than ever before to protect all manner of electronics, big and small. Conductive Composites has actually started prototyping a few products that are essentially portable "Faraday Cases,"the smallest of which isn't any heavier than a rolling suitcase. And as an added bonus, these products could also be used to bolster cyber security efforts.
The cases range in size from suitcase-sized units for carrying smaller digital devices to wheeled portable enclosures that can house servers—providing what is essentially an EMP-shielded portable data center. The cases and enclosures are being marketed not just to the military but to consumers, corporations, and first responders as well.

The materials used in Faraday Cases can also be used to create ultra-lightweight antennas, satellite communications reflector dishes, and hundreds of other things that currently need to be made with conductive metal. And they could be a boon to anyone trying to prevent electronic eavesdropping—be it through active wireless bugs, radio retroreflectors used by nation-state intelligence agencies, or passive surveillance through anything from Wi-FI hacking to electromagnetic signals leaking from computer cables and monitors. And in some cases, they could make it possible to create the kind of secure spaces used by government agencies to prevent eavesdropping nearly anywhere.
That's why the media has been referring to this technology as "NSA-proof wallpaper." It has the potential to give the average person the same anti-surveillance technology that was previously only cost-effective for governments. Someday soon, turning your house into an EMP-proof, counter-surveillance bunker, may be no more difficult nor any more expensive than a home makeover.
Joshua Krause was born and raised in the Bay Area. He is a writer and researcher focused on principles of self-sufficiency and liberty at Ready Nutrition. You can follow Joshua's work at our Facebook page. Joshua's website is Strange Danger
---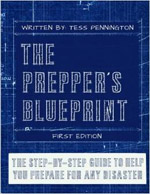 Tess Pennington is the author of The Prepper's Blueprint, a comprehensive guide that uses real-life scenarios to help you prepare for any disaster. Because a crisis rarely stops with a triggering event the aftermath can spiral, having the capacity to cripple our normal ways of life. The well-rounded, multi-layered approach outlined in the Blueprint helps you make sense of a wide array of preparedness concepts through easily digestible action items and supply lists.
Tess is also the author of the highly rated Prepper's Cookbook, which helps you to create a plan for stocking, organizing and maintaining a proper emergency food supply and includes over 300 recipes for nutritious, delicious, life-saving meals. 
Visit her web site at ReadyNutrition.com for an extensive compilation of free information on preparedness, homesteading, and healthy living.
---
Also From Tess Pennington:
A Green Beret's Guide to EMP: Practical Steps to Prepare for a "Lights Out" Scenario