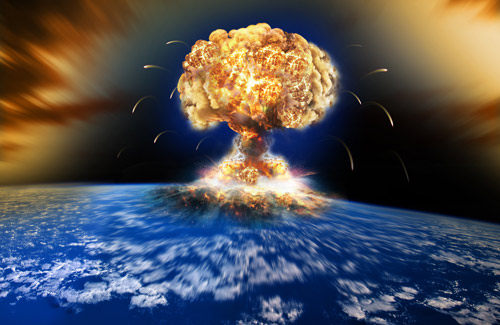 The imminent nuclear threat from North Korea was addressed by CIA director Mike Pompeo during an interview with MSNBC's Hugh Hewitt which aired Saturday.  Pompeo said that the topic was "at the top" of President Donald Trump's mind.
Trump is concerned about North Korea's nuclear capabilities daily.  The rogue nation has made many threats, and through tightening sanctions, have continued to test ballistic missiles and work toward obtaining a nuclear weapon. But Donald Trump is taking the threat of a nuclear-capable North Korea very seriously.
Pompeo said he and Trump talk for almost an hour every day, and that "I hardly ever escape a day at the White House without the President asking me about North Korea and how it is that the United States is responding to that threat."  Pompeo added, "For 20 years, America has whistled past the graveyard, hoping on hope, that North Korea would turn colors and become part of the Western civilization. There's no evidence that that's going to take place, absent a very real, very concrete set of policies that put pressure on the North Koreans to denuclearize. I think that's what you see Secretary Tillerson trying to do around the world." Pompeo was referring to the State Department's continued efforts to curb North Korea's nuclear program.
"They are ever-closer to having the capacity to hold America at risk with a nuclear weapon," Pompeo added.  Though the US and China have agreed on the urgency and goal of possible talks with North Korea, the topic of denuclearization remains completely off the table for North Korean leader Kim Jong Un. Under Kim, North Korea has rewritten its constitution to include nuclear weapons as a guarantor of its safety, and the threat of nuclear North Korea is growing.
In the meantime, the dictator of North Korea is living in fear that South Korea is working with Donald Trump on a plan to take North Korea's tyrant down.  And South Korean intelligence services claim that the coordination between the US and South Korean forces have made Kim "extremely nervous," according to the Korea Herald. Apparently, Kim has been riding in his subordinates' cars and making fewer public appearances.
Trump is not the only person in the United States government taking a nuclear North Korea seriously. Although the Pentagon maintains that the US does not train for decapitation strikes of any kind, the threat from North Korea growing hotter every day.  Civilian casualties like Otto Warmbier may also signify that the US is preparing a quick strike option in case of an untenable provocation from the Kim regime.