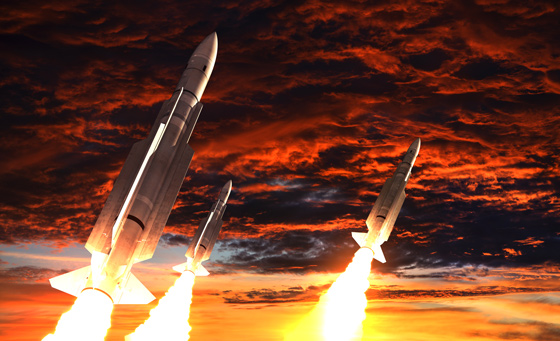 According to state run propaganda media, North Korea is on standby to launch a missile at the mainland United States.  Responding to President Donald Trump's recent warnings to the rogue regime in this manner has just flung tensions to heights never seen – not even during the Cold War.
North Korea took its turn Saturday to raise tensions in the back-and-forth escalation toward war with President Trump and the United States.  The state-run newspaper said that North Korean dictator Kim Jung Un's revolutionary army is "capable of fighting any war the U.S. wants."  The same newspaper also noted that the Paektusan army is now "on the standby to launch fire into its mainland, waiting for an order of final attack." Unfortunately, it is possible that we will witness World War 3 and these heightened tensions between the U.S. and North Korea could be the catalyst.
The editorial also stated that the United States "finds itself in an ever worsening dilemma, being thrown into the grip of extreme security unrest by the DPRK (Democratic People's Republic of Korea). This is tragi-comedy of its own making. … If the Trump administration does not want the American empire to meet its tragic doom in its tenure, they had better talk and act properly."  Pretty big talk for a small country run by a chubby dictator. And unfortunately, it won't help stop the progression toward war; it was simply yet another provocation.
The editorial appears to be in response to a series of comments made by President Trump in recent days, most recently Friday that the United States is "locked and loaded."  The president's comments are in response to Kim threatening a missile attack on U.S. territory of Guam.  So far, the back and forth tensions have been heightened by continued military drills between the U.S. and South Korea, and North Korea's insistence on obtaining a nuclear weapon that can strike the mainland United States.  These wars of words will do nothing to calm the nerves of innocents caught in the crossfire of nuclear war.
Trump continues to pursue a diplomatic solution to North Korea's purported development of a nuclear warhead that could reach the United States and other countries on an intercontinental ballistic missile. The White House says Trump had a phone conversation Friday with Chinese President Xi Jinping in which the leaders reiterated their commitment to the denuclearization of the Korean Peninsula. The president also saluted Xi for China's recent United Nations vote to impose tougher sanctions on North Korea, in response the country's escalating pursuit of nuclear weapons, according to the White House.
"At present, the relevant parties must maintain restraint and avoid words and deeds that would exacerbate the tension on the Korean Peninsula," Xi was quoted as saying during the phone call with President Trump.  World War III could be right around the corner.