UPDATE POSTED FRIDAY, FEBRUARY 18, 2011:
If you woke up this morning wondering why your GPS and shortwave radio communications equipment was still working after the alert posted by the NOAA, NASA and other space weather agencies, it's likely because the X2 Solar Flare that was scheduled to cause geomagnetic storms didn't live up to expectations:
A wave of charged plasma particles from a huge solar eruption has glanced off the Earth's northern pole, lighting up auroras and disrupting some radio communications, a NASA scientist said.

But the Earth appears to have escaped a widespread geomagnetic storm, with the effects confined to the northern latitudes, possibly reaching down into Norway and Canada.

"There can be sporadic outages based on particular small-scale events," said Dean Persnell, project scientist at NASA's Solar Dynamics Observatory at Goddard Space Flight Center.

He told AFP the official forecast is "for generally quiet conditions today, perhaps some minor storming tomorrow, but nothing extraordinary."

…

Anticipating the worst, the US National Weather Service's Space Weather Prediction Service warned it was "the calm before the storm."

…

But Persnell said the spiraling beam of solar particles from Tuesday's eruption was passing behind the Earth without making a direct hit.

"In this case, it appears it will curve around and not hit us," he said.

He said satellite data "shows that the CME is quieting down and so there is not a whole lot left to it. So it's moved well behind us by now," he said.

But he said solar activity is on the upswing, and more CMEs will follow.
ORIGINAL STORY POSTED THURSDAY, FEBRUARY 17, 2011: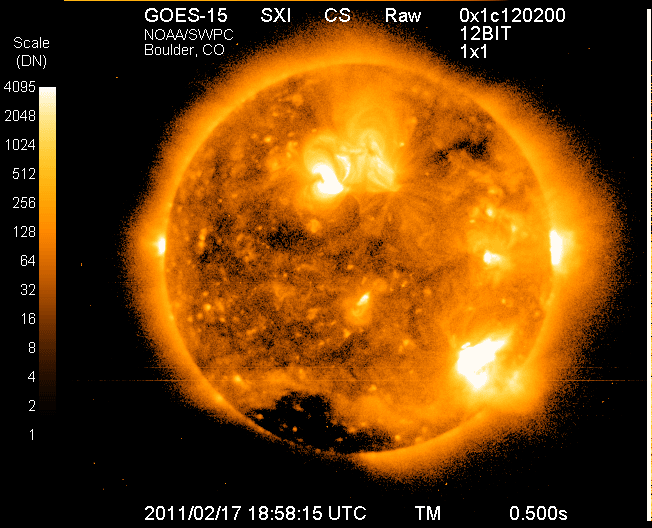 The NOAA Space Weather Prediction Center is advising that a powerful X-class solar flare is on its way to Earth. Charged plasma particles are expected to reach earth today.
China has already begun experiencing effects from a coronal mass ejection that preceded the X-class flare by a couple days:
The China Meteorological Administration reported that the solar flare had jammed shortwave radio communications in southern China.

It said the flare caused "sudden ionospheric disturbances" in the atmosphere above China, and warned there was a high probability that large solar flares would appear over the next three days, the official Xinhua news agency reported.
The National Weather Service in Anchorage, AK, in a public information statement, advises that the approaching storm could affect satellite, radio and other electronics equipment:
THE NATIONAL WEATHER SERVICE HAS ANNOUNCED THAT THERE IS A HIGH PROBABILITY OF A SIGNIFICANT GEOMAGNETIC STORM OCCURRING FROM FEBRUARY 17 2011 THROUGH FEBRUARY 20 2011.

G2 (MODERATE) STORM LEVELS ARE EXPECTED, WITH A CHANCE OF G3 (STRONG) CONDITIONS AT TIMES. DEFINITIONS FOR THESE STORM LEVELS MAY BE FOUND AT HTTP://WWW.SWPC.NOAA.GOV/NOAASCALES/. GEOMAGNETIC STORMS USUALLY LAST 24-48 HOURS, BUT SOME MAY LAST FOR MANY DAYS. GROUND-TO-AIR, SHIP-TO-SHORE, SHORTWAVE BROADCAST, AND AMATEUR RADIO ARE VULNERABLE TO DISRUPTION DURING GEOMAGNETIC STORMS. NAVIGATION SYSTEMS LIKE GPS CAN ALSO BE ADVERSELY AFFECTED. MARINERS SHOULD USE CAUTION WHEN NAVIGATING DURING THIS TIME PERIOD AND NOT RELY EXCLUSIVELY ON GPS.
According to a joint report released by U.S. Dept. of Commerce, NOAA, Space Weather Prediction Center and the U.S. Air Force, continued activity can be expected for the next 72 hours:
Solar Activity Forecast:Â  Solar activity is expected to be moderate with a chance for an isolated major flare for the next three days (17-19 February). Region 1158 is expected to produce more M-class flares and still has the potential for producing an M5 or greater x-ray event.

…

Geophysical Activity Forecast:  The geomagnetic field is expected to be predominately quiet on day one (February 17).  An increase to unsettled to active conditions, with a chance for minor storm periods is expected late on day one into day two (18 February). The increased activity is forecast due to the expected arrival of the CME associated with the X2 flare that occurred on 15/0156Z.  Day three (19 February)  is expected to be quiet to active as the disturbance subsides.
The NWS refers to this particular wave of solar activity as moderate, though significant, so the general population need not be alarmed that it is a TEOTWAWKI-type event.
However, the sun is unpredictable, and the NOAA / Space Weather Prediction Center warns that activity may continue to heat up in the region where the current flare headed for earth originated:
Region 1158 is expected to produce more M-class flares and still has the potential for producing an M5 or greater x-ray event.
Solar flares, like earthquakes and hurricanes, have classifications that identify their strength and potential for damage:
Solar flares are classified as A, B, C, M or X according to the peak flux (in watts per square meter, W/m2) of 100 to 800 picometer X-rays near Earth, as measured on the GOES spacecraft. Each class has a peak flux ten times greater than the preceding one, with X class flares having a peak flux of order 10−4 W/m2. Within a class there is a linear scale from 1 to 9, so an X2 flare is twice as powerful as an X1 flare, and is four times more powerful than an M8 flare. The more powerful M and X class flares are often associated with a variety of effects on the near-Earth space environment. Although the GOES classification is commonly used to indicate the size of a flare, it is only one measure.

This extended logarithmic classification is necessary because the total energies of flares range over many orders of magnitude, following a uniform distribution with flare frequency roughly proportional to the inverse of the total energy. Stellar flares and earthquakes show similar power-law distributions.
While the X2 flare currently en route to Earth should not cause any significant damage, other than communications jamming and delays, it has been long argued that a power solar flare, like those that hit earth in 1921 and 1859, or more recently the 1989 geo-magentic storm that affected millions in Quebec, Canada, could take out the globe's modern day power and communications grids, sending the majority of the developed world back into the stone age:
America is woefully under prepared for a looming natural disaster with the potential to be much worse than Hurricane Katrina, warns disaster expert Lawrence E. Joseph. Scientists believe a solar storm of a size not seen since 1921 is likely to hit the earth after solar activity picks up in 2012, sending out an electromagnetic pulse that could fry transformers and put electricity grids offline for months, Joseph writes in the New York Times.

Source: Newser
As we approach an intense period of solar activity in late 2012 and into 2013, scientists at the US Space Weather Prediction Center and other agencies are keeping a close eye on the sun. The SHTF plan in place for this scenario is that if a large enough flare or approaching storm is identified, emergency response teams will shut down portions of the US power grid and other necessary electronic nodes to prevent a potentially irreparable down-grid resulting from short circuiting and blown transformers.
This is good news for the general well being of the planet, and the fact that the NOAA is able to get the message out about the current X2 flare suggests that modern technology, which was not available in 1989, may actually be able to prevent a catastrophic situation resulting from sun activity.
Hat tip Johnny V