This article was contributed by Future Money Trends.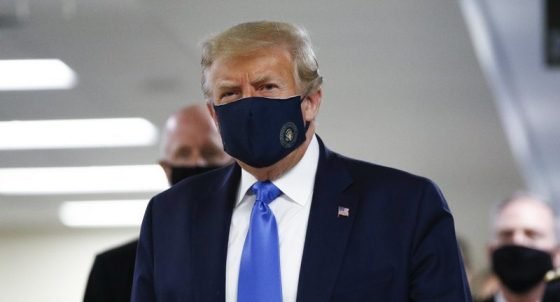 In March, sending $1,200 stimulus checks to each and every American cost current and future taxpayers some $320bn, which is far less than what the federal government spends on many items that are far more wasteful. $600 stimulus checks would using the same mathematics, cost $160bn to the federal government. Even $2,000 checks would run something in the order of $530bn, which, in the big picture, is quite doable.
The Democrats were obviously on board with the idea of $2,000 checks, and now that Donald Trump is championing the notion that China is responsible for this unfortunate turn of events and Americans are victims of this financial upheaval, the $2,000 stimulus check package is becoming a battleground for passing legislation.
As you can see, the "Hard Data," which is much more helpful at predicting market corrections, is nosediving. "Soft Data," which is more volatile, is also cratering faster than imaginable, and we believe that it won't take much for markets to endure a short-term hiccup.
We are very bullish, though, on the stock market. While there's a ton of uncertainty out there, the time to be invested is now!
We've got major problems that are scaring big investors away. As they check off boxes in 2021, they'll return with their deep pockets, but prices could be much higher.
Apart from a black swan event, which we personally can't foresee (of course, no one can, by definition), there aren't many bearish catalysts we can see.
Here are things that can cause volatility, fear, panic, and sell-offs going into 2021:
A government shutdown due to the inability to pass a budget, stimulus bill, or both.
Strain mutations, which present fears that the vaccines won't be effective or that some forms of the virus could be deadly.
An eviction crisis, as there are roughly $60bn-$70bn due in rents and the stimulus package covers only $20bn.
Real estate prices freezing.
High unemployment for long periods.
A disappointing earnings season in Q1.
Biden's tougher stance with Russia.
The biggest catalyst is the Georgia Senate election, which could put Democrats over the top and give them full control (a blue sweep if Biden is sworn in).

This will lead to speculation about excessive spending, a giant deficit, socialism, tax hikes, and who knows what else…

For now, let's focus on Trump and on his ultimatum on Section 230 and its removal, which he attempted to tie with military funding and now with the $2,000 stimulus checks. Whether you voted for him or not, this strategy is certainly a genius negotiation tactic.

What the markets want to see is compromise, but the Democrats' strategy might be to wait it out until early January, when Mike Pence has to count the electoral votes in Congress, and January 20th if there's a formal transfer of power.

The $900bn bill is dead, in our opinion. President Trump wouldn't call it a disgrace and ineffective on national TV only to ink it a few days later.

Will Congress be able to negotiate a new one in time? There are many moving parts; blood is in the streets for Main Street!

[DISPLAY_ULTIMATE_SOCIAL_ICONS]