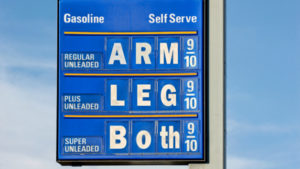 There will be no reprieve for those already cash-strapped. Food and fuel prices will continue to soar, with no sign of relief in sight.
The Labor Department's consumer price index jumped 7.5% in January from a year before, hitting a level not seen in four decades. Even though this trend began long before Russia "invaded" Ukraine, the rulers of this world want everyone to know that it wasn't their insistence on creating fiat currency out of thin air that caused inflation.  The blame is being placed on Russia.
Experts were predicting that February's numbers, due out Thursday, would show higher inflation and overall prices on goods, services, and fuel.  Economists polled by Reuters forecast that February's CPI would hit 7.9% year-over-year, amid strong consumer demand and lingering pandemic-related supply chain woes. That survey was conducted before Russian President Vladimir Putin launched his war, putting further pressure on the global economy and sending gas prices to record highs.
"There had been expectations that February would be the high point for year-over-year headline inflation, but the Ukraine shock is already sending gas prices higher in March," SGH Macro Advisors economist Tim Duy told Reuters, according to a report by Fox News Business. 
Joe Biden's ban on the import of Russian oil will have a big effect on these prices too.
Countries Begin Rationing Wheat and Other Food Commodities
"We expect to see a high headline … headline inflation in tomorrow's February inflation data," Psaki told FOX Business in a news briefing, pointing to elevated energy prices as a "key reason" and saying that "gas prices have jumped 75 cents since the beginning of the year as Putin built up his military near Ukraine."
Food shortages and increases in those prices are already hitting Americans' wallets hard. It isn't over yet either.  Prepare to budget and brace yourself for what's coming. It doesn't look good. When people cannot afford to eat because they cannot afford to drive to work, real societal unrest and upheaval become a real possibility.