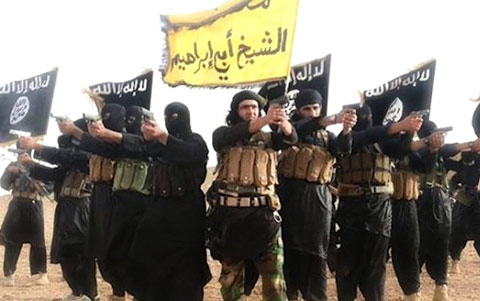 Undoubtedly you heard the loud warnings from government about ISIS terror threats over this past Fourth of July… kinda spooky, right?
But when nothing happened you went on with your fireworks and BBQ grill, perhaps dubious of fear mongerers in Washington (always at it) but ultimately content that no serious mischief took place.
But think again… if the FBI can be believed, it was no false threat. It was terrorism stopped in its tracks, by our loving watchers.
And they didn't just foil one plot… director James Comey insists it was multiple DEADLY attempts to kill that were thwarted. Independence Day was saved.
According to the Daily Mail:
FBI Director James Comey said that law enforcement officials stopped an undisclosed number of plots to 'kill people in the United States' over the Fourth of July holiday.

The plots were linked to the Islamic State terror group who wanted to carry out attacks which would have caused mayhem across the country.

[…]

Comey said: 'We face people who are highly unpredictable. We cannot count on the fact that they'll be looking to do something on July fourth, so July third, we really got to lock these guys up.'
Of course, Comey doesn't claim his G-men stopped all these fantastic plots just ahead of the Fourth.
Rather, he takes credit for rounding up the usual ISIS suspects over the last four months… that's what saved America's most beloved patriotic holiday.
In the past four months, at least 10 people who were considered to be 'sympathizers' of the terrorist group were taken into custody in New Jersey, Ohio and North Carolina.

And this, Comey said, had helped to prevent ISIS from carrying through their plans.

However, the FBI director refused to elaborate on what those plans were or who exactly was being targeted.
He did, however, cite a "terror suspect" shot by police a month ago after lunging at them with a knife… as well as man accused of plotting to join ISIS:
He cited as an example the case of a 26-year-old terror suspect who was fatally shot by police in Boston last month after authorities said he lunged at them with a military-style knife.

[…]

In another case, Samuel Rahamin Topaz, 21, of Fort Lee, was charged with conspiring to travel overseas to join ISIS.
Pardon the sarcasm, but the FBI is hardly a credible alarm bell for potential terror threats, as they have repeatedly been implicated in "organizing nearly every terror plot in the U.S." since 9/11.
Numerous cases that initially made sensational and terrifying headlines where later revealed to involve FBI patsies, often set-up with inoperative weapons, and government cash and provoked into making irresponsible and outlandish claims about intended plots.
Somewhere in the bottom of the story, the media manages to mention that the public was never in danger, and the FBI was looking to pat themselves on the back and pad their scorecards.
This time Comey decided to write himself down for a grand slam defeat of ISIS that is as delusional as Don Quixote's fight against terrorist windmills.