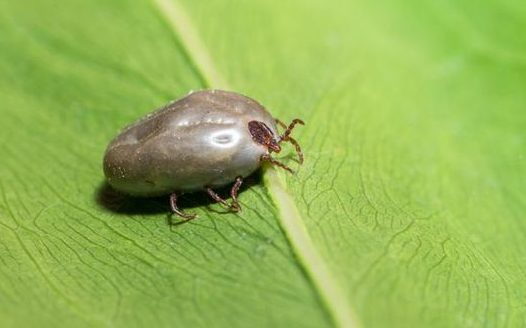 A newly discovered invasive tick, most commonly found in Asia and known for cloning itself, spreading diseases in humans and sucking livestock dry has been discovered in the United States. Native to East Asia, the longhorn tick is known for spreading diseases in humans that can be fatal.
An Entomologist at the Hunterdon County Health Services in Flemington, New Jersey says he's never seen anything quite like this new tick infestation on a pet sheep. In September of 2017, Tadhgh Rainey noticed the strange ticks after a farmer came into the facility covered in them. She said she was shearing her one sheep when she noticed they had covered her. According to Science News, when he and his colleague entered the sheep's enclosure, "we almost immediately got covered in ticks," he says. "I couldn't believe this sheep was alive." It was covered in hundreds, maybe thousands, of ticks." The entire investigation sounds like something straight out of a horror movie:
"Investigation of the Hunterdon property in early October revealed a large number of ticks both on the sheep and throughout the paddock," the scientists shared in a new study published in the Journal of Medical Entomology. "The ticks in the paddock were so numerous that they crawled on investigators' pants soon after setting foot inside. The sheep was supporting hundreds of ticks, including all three active life stages (larva, nymph, adult). Although ticks were concentrated on the sheep's ears and face, engorged ticks of all stages were readily found all over its body, including areas beneath the animal's thick coat." –Mother Nature Network
Rainey couldn't identify the ticks swarming all over his body, so he sent several samples to labs all across the country. One went to Andrea Egizi, an entomologist at Rutgers School of Environmental and Biological Sciences in New Brunswick, N.J. When Egizi analyzed the DNA of the ticks she was shocked and horrified when the identification came back as Haemaphysalis longicornis, a native of East Asia, known as the "Longhorn Tick."
"There were no other domestic animals on that property, so it's a really big mystery exactly how it got there," Andrea Egizi, the senior author of a paper on the discovery published last week in the Journal of Medical Entomology, told NPR. And now, the tick comfortably calls New Jersey its home. The New Jersey Department of Agriculture announced in early May that the longhorn tick, a species native to China, Japan, and Australia has successfully survived the New Jersey winter and will likely be spreading throughout the state.
The tick spends winters burrowed underground in order to survive. Besides its ability to burrow underground to avoid death from freezing temperatures, the longhorn tick also has some other characteristics that put a frightening and horrifying spin on its discovery. The tick reproduces asexually and rapidly increasing in population by cloning itself and laying thousands of eggs. The nymphs and adults also tend to "swarm" their prey, with recorded observations of hundreds of ticks hanging from their hosts like "bunches of grapes."
"Only one tick is needed to start a population, and they can grow to high numbers quickly," Egizi who is the senior author on the report, told Entomology Today. "They are not limited by the need to find mates, which can be difficult in a small population." The longhorn tick will also suck the blood of any bird or mammal it can get its hooks into, including humans meaning it has the potential to spread fatal diseases. Of particular concern to scientists and health officials is obviously Lyme disease, but other potentially fatal diseases that cause neurological problems are also worrying, including ehrlichiosis, anaplasmosis, Rocky Mountain spotted fever and Powassan virus.  Recently, the longhorn tick has been linked to a disease called "severe fever with thrombocytopenia syndrome" (SFTS), which causes severe hemorrhaging and has a mortality rate of more than 5 percent.
Farmers should keep an eye on their animals as well and keep up with tick treatments. At least for now, it seems cows and sheep should be more afraid of this invasive tick than people. The longhorn tick is great at transmitting the deadly cattle disease theileriosis and heavy infestations of the ticks have also been known to suck so much blood from a single animal that it dies, a vampiric practice called exsanguination. Meaning the ticks sucked the animal's blood dry.