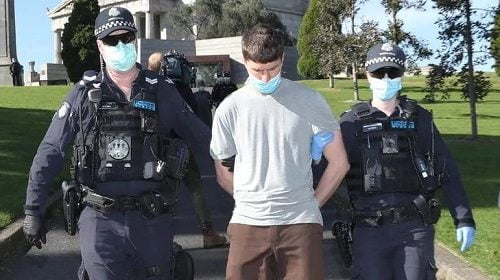 The Health Department of New York state has put out an urgent appeal for what the NY Post called "Mask squad" staffers to go to Rockland and Orange counties "to perform COVID-19 community outreach and enforce mask and social distancing safety protocols amid fears of a second wave of the virus." The Gestapo is on American soil.
The Health Department of New York which is now losing thousands of people every day due to its high taxes, draconian rules, and coercive regulations has decided they need to use force and violence to implement their New World Order totalitarian regime.
"The DOH is responsible for community outreach and enforcement of Executive Orders and regulations related to the use of face-coverings/masks and social distancing to prevent the spread of COVID-19," the department said in a Monday email to employees in its office of health insurance programs.

"Staff is needed for immediate URGENT deployment to Orange and Rockland counties to assist with this critical public health and community enforcement effort," the recruitment pitch to staffers in the agency's office of health insurance programs obtained by the Post said. –New York Post
The request asked staffers to volunteer for shifts in Orange and Rockland that run from Saturday, December 5 through Friday, December 11, and consequent weeks through New Year's Day. Workers who volunteer for the Orange-Rockland mask squad will be eligible for overtime pay and responsible for assisting with the enslavement of humanity.
This still looks like it is going to continue to uglier as the tyrannical policies are rolled out to combat this hoax.
Health Department spokesman Gary Holmes said DOH employees have also been redeployed to help staff drive-through testing sites and enforce COVID-19 safety protocols at the airports. Orange County Executive Steve Neuhaus welcomed state health Gestapo.
"We're on it. We got it. But you can never say it enough and the repercussions of these numbers continuing to climb warrant a strong message of awareness and enforcement," Neuhaus told The Post.
Remember, this is all about control. This has never been about health.  This push to get the New World Order installed and enslave all of humanity is underway. The only solution is to wake up, realize we all have to stand together, and stop believing anyone has a higher claim over your life or property than you do. This is a spiritual war and a war for our minds.  They will not stop until we have had enough.