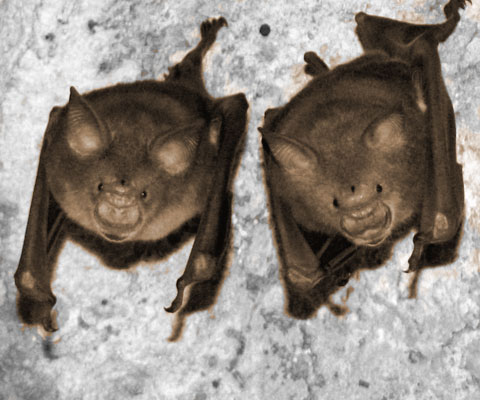 An alarming new threat has emerged in the discovery of  a new virus that can be transmitted directly from bats to humans, and has the potential for a deadly outbreak.
Known as SHC014-CoV, this lab modified chimera coronavirus is currently circulating in Chinese horseshoe bat populations and can spread to humans, infecting the lungs. It is thought to be similar in to the SARS respiratory virus,  and scientists have replicated the strain in mouse lungs, demonstrating the easy adaptability of the disease across the species bridge.
The Daily Mail reports:
Scientists have discovered a new virus, similar to SARS, that can jump from bats to humans, prompting fears of a future epidemic.

They warn there is no treatment for the virus, referred to as SHC014-CoV, which can cross the species divide without the need to mutate.

But, they caution, it is still not clear whether or not the disease has the ability to spread from human to human.
Could it cause a new epidemic? It is a definite possibility.
Disease researchers in North Carolina and China found that SHC014-CoV will "replicate efficiently in primary human airway cells and achieve in vitro titers equivalent to epidemic strains of SARS-CoV."
Dr Ralph Baric, of the University of North Carolina, said:
"This virus is highly pathogenic and treatments developed against the original SARS virus in 2002 and the ZMapp drugs used to fight Ebola fail to neutralise and control this particular virus.

'So this is not a situation of 'if' there will be an outbreak of one of these coronaviruses, but rather when and how prepared we'll be to address it.'
Here's the abstract from the study:
Using the SARS-CoV reverse genetics system2, we generated and characterized a chimeric virus expressing the spike of bat coronavirus SHC014 in a mouse-adapted SARS-CoV backbone. The results indicate that group 2b viruses encoding the SHC014 spike in a wild-type backbone can efficiently use multiple orthologs of the SARS receptor human angiotensin converting enzyme II (ACE2), replicate efficiently in primary human airway cells and achieve in vitro titers equivalent to epidemic strains of SARS-CoV. Additionally, in vivo experiments demonstrate replication of the chimeric virus in mouse lung with notable pathogenesis. […]

Our work suggests a potential risk of SARS-CoV re-emergence from viruses currently circulating in bat populations.
So the risk is there.
And the ways of combating the respiratory disease are not worked out. Researchers, who stand to benefit from the very outbreak they hope to treat, have complained that government research has been put on hold:
Researchers said their discovery is notable, as it highlights an ongoing debate over the US government's decision to suspend all gain of function experiments on a variety of select agents, earlier this year.

The move has put a substantial standstill on the development of vaccines or treatments for these pathogens should there be an outbreak.

SARS, severe acute respiratory syndrome, first jumped from animals to humans in 2002 to 2003, triggering a worldwide outbreak with around 8,000 cases being diagnosed, including one at the university's Chapel Hill location.
Almost 800 people lost their lives during the outbreak.
The SARS outbreak killed some 800 people, and carries flu-like symptoms, which worsen, impairing the lungs and leading to potentially-deadly pneumonia.
Now, scientists believe this coronavirus and other pathogens circulating in bat colonies could bring back severe SARS infections, along with the serious possibility of spreading this new strain.
There is no way to know how bad a SHC014-CoV "bat flu" outbreak could be, but the potential for mass casualties and a heavy handed government response are clear enough.
Fortunately, the personal steps you can take to avoid such pandemics work for any of these diseases.
The first steps included preparing for extra food, fuel and supplies as you would for any emergency. Creating a safe room where you and your family can retreat and avoid exposure from the general population is important, and planning a secondary place where sick family members could be quarantined without infecting other loved ones, while being cared for, is also a prudent idea.
Health workers, hospital employees, doctors and nurses all rank at the top of the list for group you will want to avoid if an outbreak has been reported. Teachers and students are also highly exposed. Avoid busy public areas, and especially public transportation hubs where people from every area of the world cross paths and leave pathogens behind.
Staying in your house, with self-sufficient preps is the best plan, if it is possible. In the worst cases, it may become mandatory.
Sanitation and a contamination-avoidance protocol are key to minimizing the risks.
Some other suggestions for this scenario include:
1. Never touch your face with your hands. Your hands by default will be the most likely area of your body to contain infected debris.
2. Avoid contact with others and limit social protocols – resist shaking hands, kissing, hugging. Limit your exposure as much as possible.
3. Make a plan. Daisy Luther provides an excellent template for creating a pandemic plan. Further, to prepare for a pandemic event, if you plan on bugging out, do it before the quarantine measures are placed. Talk with country cousins about staying with them for the duration or begin fixing up any remote properties in preparation for a long term pandemic event.
4. Make preparations and discuss with family members the family's pandemic plan.
5. Have some entertainment available to family members: board games, books, art supplies, etc.
6. For those with special needs, ensure that you have supplies ready for them (infants, elderly, handicapped, etc.).
7. Prepare a sick room for the home to limit family member's exposure to the virus. If someone in the house is infected, then the person needs to be segregated to a room of the house and that room needs to be sealed off from the rest of the home either using plastic sheeting or duct taped closed with limited interaction from other family members.
8. Consider all items coming in from the outside to be contaminated and should be washed with antibacterial soap or a chlorine mix before handling with bare hands. Therefore, any item you pick up after the emergency starts need to be handled accordingly.
9. Seal air leaks in your home. All it takes is one particle of infectious material to doom your whole family. Since you will be indoors with not alot to do, do this.
10. Any time you come into near contact with anybody who is infected, you will need a shower. This is not an option.
11. All common items in the house should be disinfected after use regardless if anyone is sick. The kitchen and bathrooms should be meticulously cleaned after use.
12. If a family member dies in quarantine, seal off the room until professionals can deal with it. Don't risk it. If you decide to take matters into your own hands, Wear long pants and long sleeves. Tuck your sleeves into your gloves. Dig your grave prior to moving the body. Spray the areas of the body you intend to touch with your bleach solution and wait 10 minutes before touching the body. 13. Avoid touching the torso and head of the deceased person and only touch the disinfected extremities. Disinfect you clothing and shower after the operation is complete.
14. Looters and crime waves can occur during this so ensure you have a means to protect yourself and your preps.
15. Stay isolated until quarantine is lifted.
If circumstances compel you to travel or go out in public, any serious pandemic should be met with personal protection gear, including a respirator, protective eyewear, gloves and a body suit.
As with ebola, there may be more fear than substance, yet full on outbreaks are just a few mistakes away, and failing to prepare and avoid the risks could cost your life.
Read more:
The Prepper's Blueprint: The Step-By-Step Guide To Help You Through Any Disaster
Are You Ready Series: Pandemic Preparedness
Prepping For Mandatory Quarantine: Now is the Time to Prepare
When Should I Go Into a Full Pandemic Lockdown Mode And Self Quarantine?
Pandemic Preparedness: Know What to Do If There Is an Outbreak