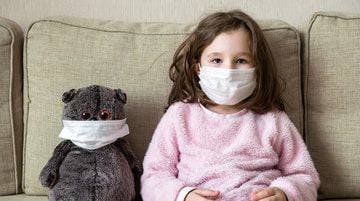 Salt Lake City Utah may have a "new normal" they want everyone to get used to this year as school starts. The government wants people to wear their muzzles masks insides their own homes.
Basically, the general idea is that we, as human beings are not frightened of our fellow humans enough, so we should be scared even of those living our household. Dr. Adam Hersh, a professor of pediatric infectious diseases specializing in epidemiology at the University of Utah Health, says data already shows more people are wearing masks at home than before. And yet the fabricated numbers keep going higher…
Dr. Hersh said, according to KUTV2 a CBS affiliate, that it's becoming especially common in households where a family member faces a higher risk of complications from coronavirus, as well as for large gatherings.
In the interview published on the U of U Health's website, Hersh is quoted saying just because people are related doesn't mean the virus is less likely to spread. He added that data does show when kids get infected with the virus they are a lot less likely than adults to get sick.

He has been consulting with school districts across the state about their reopening plans.

"If they were to acquire the infection and bring it home to the rest of the family, it could impact those who are at higher risk for infection and could potentially experience a complicated case," Hersh said. –KUTV2
The goal here is to obviously continue to panic the public into wearing the symbol of silence, submission, and consent. Those who will make you wear the mask today will force you to take the vaccine tomorrow.  Remember that when the military is released in a "powerful way" to vaccinate everyone for something that's been shown to be milder than the flu in the vast majority of people.
https://www.shtfplan.com/headline-news/are-face-masks-covid-rituals-occultist-symbols-for-submission_07122020
Some say this will all be over after the election. If you truly believe that, you don't fully understand what's going one here. Never before has preparedness been more important. Continue doing audits of your gear and checking your food and water supplies.  Forced vaccines are coming along with food shortages and a digital dollar on a fully centralized system that can be shut off whenever the elitists decide to.
https://www.shtfplan.com/headline-news/brace-for-the-worst-election-in-u-s-history_08122020