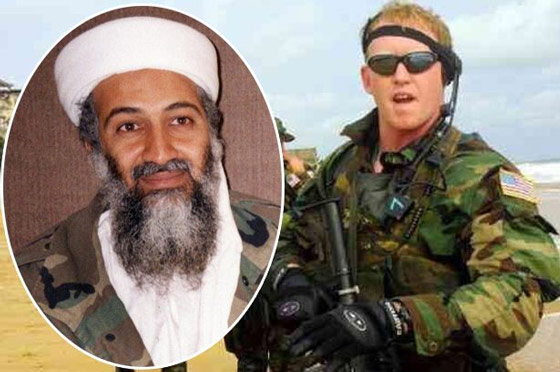 (Pictured: Navy SEAL Robert O'Neill; Credited with the shot that killed Osama Bin Laden)
We all remember the night President Obama announced that Osama Bin Laden had been killed. All of America celebrated, many in the streets.
The following day Bin Laden Death photos started circulating the internet. Immediately thereafter the internet's "conspiracy theorists" pointed out the many reasons for why the pictures were not the real Osama Bin Laden. Facial comparisons at the time suggested that something was off.
For better context, here's the photo (right) disseminated to the general public: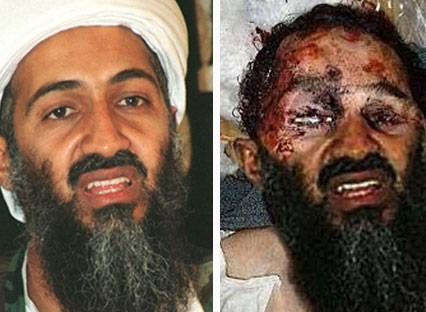 But as The Guardian noted at the time, the photo appeared to be a composite image enhanced with editing software: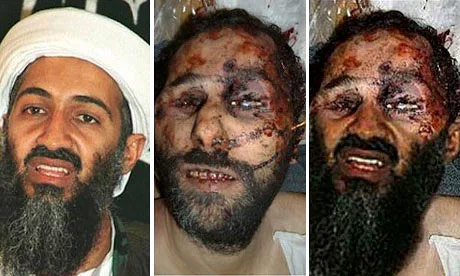 An image apparently showing a dead Osama bin Laden broadcast on Pakistani television and picked up by British newspaper websites is a fake.

The bloodied image of a man with matted hair and a blank, half-opened eye has been circulating on the internet for the past two years. It was used on the front pages of the Mail, Times, Telegraph, Sun and Mirror websites, though swiftly removed after the fake was exposed on Twitter.
There was another photo released, reportedly taken within Osama's compound immediately following his death: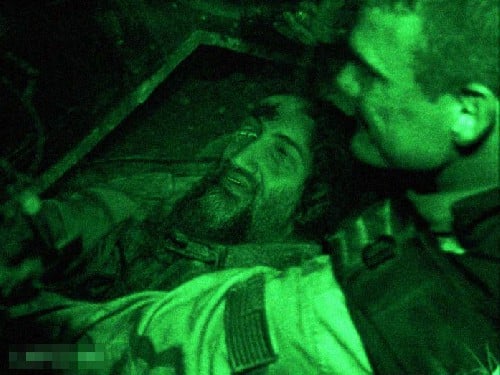 As you've no doubt noticed, Osama Bin Laden's head appears to be completely intact.
That wouldn't be a problem, except that according to Navy SEAL Robert O'Neill's account in his new book, The Operator: Firing the Shots that Killed Osama bin Laden and My Years as a SEAL Team Warrior, Osama's head was pretty much destroyed when SEAL's engaged him at his Pakistani compound:
An unnamed point man and O'Neill proceeded up to the third floor. After they burst into bin Laden's bedroom, the point man tackled two women, thinking they might have suicide vests, as O'Neill fired at the Qaeda founder.

"In less than a second, I aimed above the woman's right shoulder and pulled the trigger twice," he wrote, according to the New York Daily News. "Bin Laden's head split open, and he dropped. I put another bullet in his head. Insurance."

There is some dispute over who fired the fatal shots, but most accounts are that O'Neill shot bin Laden in the head at some point. According to a deeply reported article in The Intercept, O'Neill "canoed" the head of bin Laden, delivering a series of shots that split open his forehead into a V shape.

…

O'Neill's book says the operators had to press bin Laden's head back together to take identifying photos. But that wasn't the end of the mutilation of bin Laden's body, according to Jack Murphy of SOFREP, a special-operations news website.

Two sources told Murphy in 2016 that several SEALs took turns dumping round after round into bin Laden's body, which ended up having more than 100 bullet holes in it.

Murphy, a former Army Ranger, called it "beyond excessive."

Full Report: Business Insider
It has been widely reported that President Obama lied about certain aspects of the Bin Laden story. Some have even suggested that Osama wasn't killed in 2011, but rather, a full ten years earlier in 2001. Moreover, there have been no less than nine  announcements of Osama's death since the attacks of September 11th.
So, did Osama die on the night of May 2, 2011? Or could he have died from a medical condition or military strike years before?
We'll probably never know the complete story.
What we do know is that the public was lied to at the very onset of the reports, suggesting nothing government officials disseminate via the media can be trusted to be an accurate portrayal of events.
Related: The Operator: Firing the Shots that Killed Osama bin Laden and My Years as a SEAL Team Warrior