This article was contributed by Tom Beck of Portfolio Wealth Global.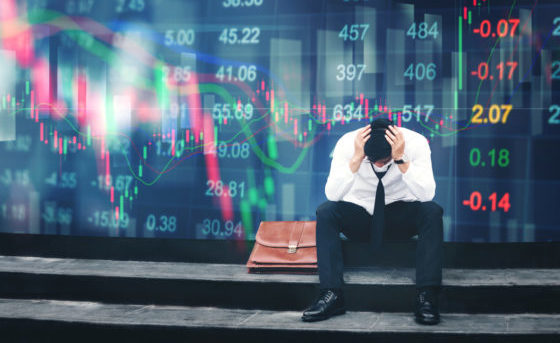 We warned all throughout the MONTH of AUGUST that markets just don't accept the REALITY of VALUATIONS anymore and one week afterward, the S&P 500 and NASDAQ peaked and have since entered a correction (NASDAQ for now).
Historically, as we explained, September is the market's WORST MONTH, but this is getting even more SCREWED UP since Europe is considering a second quarantine period while elections in the U.S., which are the BIGGEST UNKNOWN, are rapidly approaching.
Listen closely: Americans are so programmed by propaganda ON BOTH ENDS of the spectrum that the questions asked to everyday citizens reflect the SERIOUS NUMBNESS of the average voter:
As you can see, the RACE IS TIGHT and the stakes are high!
Yesterday, I watched the amazing documentary "The Social Dilemma," which proves beyond any shadow of a doubt what the business model incentives of social media giants are, and it will be them that DECIDE THE OUTCOME of this presidential run come November.
Between now and then, here's what could HELP TRUMP, and below that is what could help BIDEN:
Vaccine news – the cure will obviously be positive for Donald Trump, who will RIDE THE COATTAILS, taking credit for the record-fast approval process.
Quarantines and school closures – I have no doubt that Democratic states are going to MAKE LIFE a living hell for residents because they must show Trump's inadequacy with containing the pandemic.
Debates – obviously, the more we allow these two TO CONFRONT each other, the more Trump has a chance to shine.
Social unrest – if chaos returns, police defunding claims will bring voters to Trump, who is against it. Police brutality, on the other hand, indirectly helps Biden.
For now, markets are still IN SHOCK that Trump's approval ratings aren't what they were pre-COVID-19. In January, no one predicted a close race, so I believe that if Biden's chances are real, it could be AN INITIAL re-rating of equities downwards due to the high probability of higher corporate taxes.
So, when looking at this -12% correction in the NASDAQ, don't assume it has anything to do with the presidency because it doesn't.
Prices of equities are TOO HIGH and it's dawning on institutional investors that they can invest in the recovery by going LONG the beaten-down industries, thus leaving the "bubble territory" to the retail public to MESS WITH.
Now, after the dynamite has exploded, we believe institutions will use stink bids and get back into tech.
We sure are exploring the matter using THIS new watch list.
After already being out of the woods, the SECOND-WAVE mentality that is taking over is depressing and I expect many controversies in the COMING MONTHS.
Lastly, we're working on a BIG ALERT that you don't want to miss, so stay focused on what's coming.