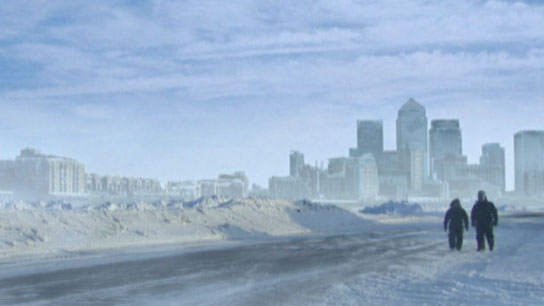 "The sun is entering one of the deepest Solar Minima of the Space Age," wrote Dr. Tony Phillips just six weeks ago, on September 27, 2018.  The lack of sunspots on our sun could bring about record cold temperatures, and perhaps even a mini ice age. 
Sunspots have been absent for most of 2018 and Earth's upper atmosphere is responding, says Phillips, the editor of spaceweather.com.  "The bad news," according to Phillips, is: "It also delays the natural decay of space junk, resulting in a more cluttered environment around Earth."
"It could happen in a matter of months," says Martin Mlynczak of NASA's Langley Research Center on the cold snap that may be coming. "If current trends continue, it could soon set a Space Age record for cold," says Mlynczak. "We're not there quite yet," he said. However, "months" is not all that far away.
Data from NASA's TIMED (Thermosphere Ionosphere Mesosphere Energetics and Dynamics) satellite shows that the thermosphere (the uppermost layer of air around our planet) is cooling and shrinking, literally decreasing the radius of the atmosphere. This reduction of solar activity could result in a global cooling phase. "The thermosphere always cools off during Solar Minimum. It's one of the most important ways the solar cycle affects our planet," said Mlynczak, according to The New American. 
The new NASA findings are in line with studies released by UC-San Diego and Northumbria University in Great Britain last year, both of which predict a Grand Solar Minimum in coming decades due to low sunspot activity. Both studies predicted sun activity similar to the Maunder Minimum of the mid-17th to early 18th centuries, which coincided to a time known as the Little Ice Age, during which temperatures were much lower than those of today.
For some simple tips and tricks on how to prepare for a solar minimum, please read the article below:
https://www.shtfplan.com/headline-news/what-solar-minimum-means-and-10-ways-you-need-to-prepare-for-it_09192018
It isn't difficult to prepare for the solar minimum and a much cooler climate.  But it will take some time and getting used to.  Give yourself ample opportunity to gather enough supplies and make sure you keep your mittens handy!