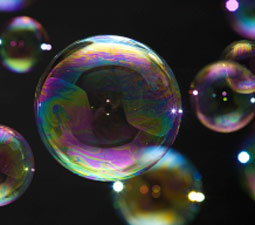 If you've been paying attention to the ongoing degradation of the American economy since the last financial crisis, you're probably flabbergasted by the fact that our economy has managed to make it this far without imploding. I know I am. I find myself shocked with every year that passes without incident.
The warning signs are there for anyone willing to see, and they are flashing red. Even cursory research into the numbers underlying our system will tell you that we're on an unsustainable financial path. It's simple math. And yet the system has proven far more durable than most people thought.
The only reasonable explanation I can think of, is that the system is being held up by wishful thinking and willful ignorance. If every single person knew how unsustainable our economy is, it would self-destruct within hours. People would pull their money out of the banks, the bonds, and the stock market, and buy whatever real assets they could while their money is still worth something. It would be the first of many dominoes to fall before the entire financial system collapses.
But most people don't want to think about that possibility. They want the relative peace and prosperity of the current system to continue, so they ignore the facts or try to avoid them as much as possible. They keep their money right where it is and cross their fingers instead. In other words, the only thing propping up the system is undeserved confidence.
Unfortunately, confidence can't keep an unsustainable system running forever. Nothing can. And our particular system is brimming with economic bubbles that aren't going to stay inflated for much longer. Most recessions are associated with the bursting of at least one kind of bubble, but there are multiple sectors of our economy that may crash at roughly the same time in the near future. For instance:
Our economy is awash in cheap money and financial bubbles that threaten to wipe out tens of trillions of dollars worth of savings, investments, and assets. Everyone can close their eyes and hum while they hope that everything is going to be just fine, but it won't be.
I said before that if everyone knew how unsustainable this economy is, it would all come crashing down. But they're going to find out one way or another when it comes crashing down anyway. Hope and confidence can only prop up a bubble-ridden economy for so long.