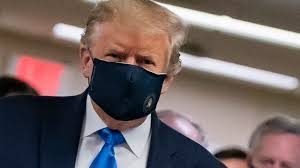 The mainstream media is in a panicked frenzy over President Donald Trump's suggestion that the 2020 election be delayed.  The MSM says Trump has "no power" to delay the election, but not one single governor had the power to close small businesses either and that happened.
The point is, we won't really have a choice anyway. The Federal Reserve is in control and they will select the puppet. If the election is delayed, it will be because the Federal Reserve wants it to be, and it'll have little if anything to do with Trump.  He's just playing his part for the predictive programming and the mainstream media is stirring up the fear again. Have people really not figured this out yet?
However, when the mainstream media goes nuts over anything, we should all be paying attention to their brainwashing and mind-numbing propaganda to alert us to potential future events.
According to the BBC, Trump floated a delay until people could "properly, securely and safely" vote. Trump has long railed against mail-in voting which he has said would be susceptible to fraud. And while he might be right about that, it's obvious that the New World Order is already in control and this is all a part of the distraction while they finish destroying the dollar to bring about the new one-world digital currency. Most states want to make postal voting easier due to public health concerns over the coronavirus pandemic.
Greg Mannarino: "The Fed Is About To Sell You ANOTHER MASSIVE LIE!"
The reaction from MSM about this should be enough evidence that this is a distraction at best, and a psyop at worst. "Look over here! Trump said something bad! Don't focus on the real problem!" Trump even tweeted:
https://twitter.com/realDonaldTrump/status/1288818160389558273?ref_src=twsrc%5Etfw
This is gearing us up for a contested election already with predictive programming. Wake up, folks.  The joke is on us. Before waving this away as nothing, remember, the elitists have already modeled this exact scenario:
Another Secret Model: A Contested 2020 Election
We live in a world of psychological operations and they are being blasted at us 24/7 since March when COVID-19 and social distancing were all the media could talk about. Trump has also already reused to say he'd accept the outcome of the election if Joe Biden wins. This opens the door for a major event that could possibly spiral into a civil war, but at a bare minimum, will cause social upheaval this November and beyond. And the masses are still falling for it and fighting over which puppet will be chosen by the central banks to rule them.
Wake up. We are being played. This is all a predictive programming psyop game to those pushing the New World Order. Prepare for social unrest.  They are advertising what they plan to do to us. You have time, make the most of it. If you don't have 6 months' worth of food and some lead to protect that food, consider finding some.
Stay alert, pay attention to the mainstream media, but don't succumb to fear. Knowing their plans could help you prepare for what's coming.