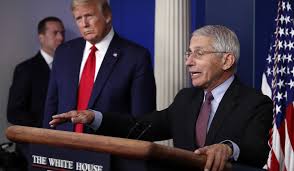 Dr. Anthony Fauci is saying there's a virus we should watch, the mainstream media went straight to fear-mongering. But, like the coronavirus, there is very little to fear – other than the mainstream media's reporting.
A new study published on Monday in the American journal PNAS has reported on a brand-new viral threat, just as we were beginning to tire of the old one. This time it is a new strain of swine flu, dubbed G4 EA H1N1, or G4 for short. The study claims the virus replicates efficiently in human airways and has infected some workers who handled the pigs without causing disease.
Tyrant Fauci EXPOSED: Explain The $3.7 Million In Funding To Wuhan Lab
Fauci said the virus is not an immediate threat where infections are occurring but said it's something we "need to keep our eye on." And this morning, headlines across mainstream media read "pandemic potential" probably terrifying the already scared masses. "In other words, when you get a brand new virus that turns out to be a pandemic virus it's either due to mutations and/or the reassortment or exchange of genes," Fauci told lawmakers.
"And they're seeing virus in swine, in pigs now, that have characteristics of the 2009 H1N1, of the original 1918, which many of our flu viruses have remnants of that in it, as well as segments from other hosts like swine." Perhaps it's just a way to keep people afraid to leave their homes or push the mask agenda (which is odd, to say the least). Fauci even says it's nothing to worry about, yet the media still drives home the fear.
In the same article, CNN also states that Dr. Angela Rasmussen, a virologist at Columbia University's public health school, warned the public not to "freak out." Other articles cite the WHO (World Health Organization) which states "we cannot let our guard down."
"[The study] also highlights we cannot let our guard down on influenza and need to be vigilant and continue surveillance even in the coronavirus pandemic," the WHO's Christian Lindmeier told a Geneva briefing.
CNN wrote: "Chinese researchers have discovered a new type of swine flu that can infect humans and has the potential to cause a future pandemic, according to a study released on Monday."  Are people not panicked enough about the scamdemic? Is that why we need another thing to fear? Has the American public's patience with lockdowns and restrictions based on lies finally worn thin? Or, is this just predictive programming to prepare the public for endless waves of pandemics to force vaccines? Are they trying to get people excited about mass surveillance and tracking? At this point, any or all of those could be possible.