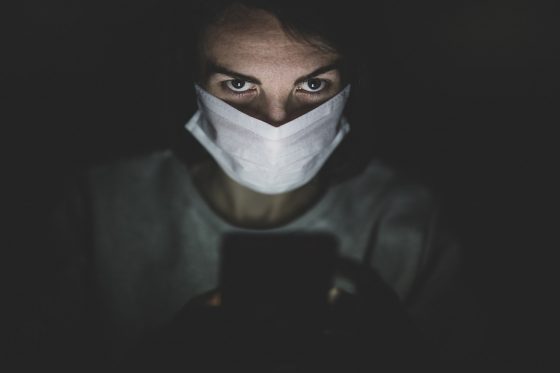 The mainstream media is using every scare tactic possible when it comes to getting as many people panicked into getting the vaccine as they can.  Now they are claiming "the devil is already here" when it comes to the California mutant strain of COVID-19.
As we have said time and time again, this is not going to end.  As long as people continue to fall for this charade and further chain themselves to the ruling class, we will all be dragged along with them.
KTLA5 even has an article out in which they quote a doctor who claims this new variant is "the devil." Predictive programming? "The devil is already here," said Dr. Charles Chiu, who led the UCSF team of geneticists, epidemiologists, statisticians, and other scientists in a wide-ranging analysis of the new variant, which they call B.1.427/B.1.429. "I wish it were different. But the science is the science."
"The science is the science," especially when one is being paid by the ruling class to make sure the science keeps the slaves in line. In a study that helps explain the state's dramatic surge in COVID-19 cases and deaths — and portends further trouble ahead — scientists at UC San Francisco said the cluster of mutations that characterizes the homegrown strain should mark it as a "variant of concern" on par with those from the United Kingdom, South Africa, and Brazil.
Californians, along with the rest of the country, have been bracing for an onslaught of the more transmissible strain from the U.K. known as B.1.1.7. But they should know that a rival strain that is probably just as worrisome has already settled in, and will probably account for 90% of the state's infections by the end of next month, said Dr. Charles Chiu, an infectious diseases researcher, and physician at UCSF. -LA Times
The solution will be more lockdowns, fewer links in your already short chain, and increased tyranny all over. This is literally what the rulers want.
The new evidence that the California variant could make people sicker, and vaccines less effective, should spur more intensive efforts to drive down infections, Chiu said. Those should include both public health measures, such as masking and limits on public activities, and a campaign of rapid vaccinations, he added. -LA Times
As we previously mentioned, now that the vaccines are out and already doing untold and underreported damage to many who take them, there could be a "push" of some kind to propagate those "hesitant" about taking the vaccine into doing so.  What better way than to make COVID-19 into COVID-21?
More COIVD-19 Vax Deaths: Think They'll Blame This On COVID-21?
Remain alert and prepared. One of the most valuable skills right now will be discernment. Do not turn off your critical thinking and willingly submit to anyone. Keep your mind sharp, and your gear ready.