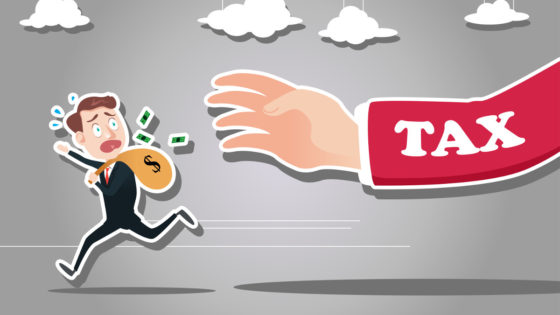 Only 18% of Americans surveyed said they paid fewer taxes under president Donald Trump's tax cuts. In fact, a majority said their 2018 tax bill was about the same or higher compared to 2017.
While the tax cuts may have spurred some economic growth, everyday working Americans said they have not been helped by the new law. Thirty-two percent said their federal taxes were higher under the Trump tax law, while fourteen percent said they were not sure whether they paid more or less, according to a report by The Hill.
Trump's tax law delivered $1.5 trillion in cuts to businesses and individuals but the poll highlights that most Americans don't believe they benefited under the changes.  The survey's finding that 18 percent of voters believe their taxes went down is similar to a March poll from NBC News and The Wall Street Journal which found that only 17 percent of adults contacted believed their federal liability had declined in 2018.
These experiences could impact Trump's reelection chances.  While it's likely Americans had less coming out of their checks, therefore got a smaller refund, many cannot visualize that in the face of rising costs of goods and services coupled with stagnant wages. According to estimates compiled by the Tax Policy Center, the law will cut individual taxes for two-thirds of households, 65 percent, while raising individual income taxes for only 6 percent of households.
"I think it's really interesting that Republicans were less supportive of this bill than you might have expected. They certainly were less supportive when it was going through Congress and when it was signed. And I think even today, you're still seeing that this was kind of a nothing burger for the Republican party," Vanessa Williamson, a senior fellow at the Tax Policy Center, told "What America's Thinking" host Jamal Simmons.
Another reason why many taxpayers likely didn't experience a tax break was that roughly 90% only got a reduction in their tax burden by 2%. "The reality is for most people, the tax bill doesn't make much of a difference. Some people will have seen quite a small tax cut but it will have been folded into their paychecks so it's no surprise that people aren't completely clear on what happened," Williamson, added.
While slicing the corporate tax rate was great for creating more jobs, Americans would have preferred to see a lot more than 2% put back in the paychecks.  If Trump can pass a sizeable tax decrease for working Americans, he will all but seal his fate as a two-term president.