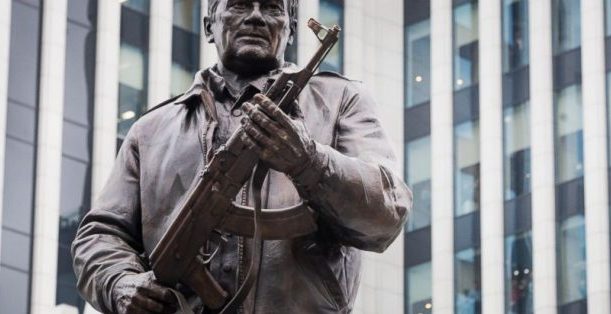 A brand new statue of Mikhail Kalashnikov holding his signature AK-47 assault rifle was unveiled in Moscow on Tuesday. The statue commemorates one of Russia's most renowned inventions.
Kalashnikov is a staple name in Russia. The history of the rifle though began almost 100 years ago when its designer was born. The inventor of the world's most famous rifle was born into a Siberian peasant family in 1919. He was mechanically minded and first aspired to design farm equipment. But World War II called him into the army and he was wounded in the 1941 battle of Bryansk. While he was in the hospital recovering, he heard other soldiers saying their weapons were insufficient to those of the Nazi's. So, Kalashnikov got to work designing his own rifle.
He made a successful rifle in 1947 for the Russian army. The infamous gun's name (AK-47) commemorates the designer and the year of accomplishment. Avtomat Kalashnikova (19)47.
The AK-47 soon became widely popular for its adaptability to rugged conditions, including jungles, deserts, and the bitter cold. It is simple to operate and easy to maintain. With little training, users of this rifle can often field-strip an AK-47 in a half a minute.
The gun was quickly adopted by Soviet Bloc armies and the Soviet Union distributed them to the armies of ideological allies and revolutionary groups throughout Africa and Asia. Moscow also freely licensed other countries to produce local versions.
By some estimates, the AK-47 and its versions account for about one-fifth of the world's firearms. The rugged and reliable weapon is the number one choice for many armies, terror groups, and history collectors worldwide.
In the words of Russian President Vladimir Putin: "The Kalashnikov rifle is a symbol of the creative genius of our people." Or as Russia's Culture Minister Vladimir Medinsky put it: the Kalashnikov rifle has become "Russia's cultural brand."
Kalashnikov solidified his place in not just Russian history, but in world history as well. His invention is on the flags of Mozambique and Hezbollah and its barrel is shown on Zimbabwe's coat of arms.
In 2013, Kalashnikov died at the age of 93.