This report was originally published by Tyler Durden at Zero Hedge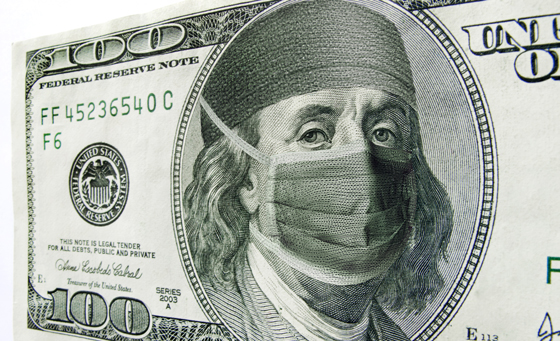 More and more cash-strapped Americans are reportedly seeking "alternative" ways to cover themselves with cheaper healthcare, as an exodus from traditional health insurance plans continues.
Traditional health plans are now pricing people out of the market and consumers are looking closely at alternatives. Many consumers are finding cost relief in alternatives like healthcare-sharing ministries, which are cost sharing plans usually rooted in local religious communities. A Bloomberg report found that the number of people joining these sharing ministries was up 74% from 2014 to 2016. More than 1 million people are participants in these programs.
The report details the story of one family, the Bergevins, who realized that they had to make some big changes in their healthcare when they were charged $7,000 in out-of-pocket expenses that their insurance didn't cover after their son was born. Two years after the birth of their son, the couple ditched their health insurance plan, a move that helped them pay off the $7,000 debt.
As the couple prepares to have their second child, they have since decided not to go back to traditional coverage and instead to use a combination of a religious group and a primary care doctor that they can pay monthly. "I was so jaded with the whole health-care insurance situation," the mother, Lindsie, told Bloomberg.
These monthly payment-style primary care clinics are also popping up more often. There are now almost 900 of them, up from "just a handful" in the early 2000's.
The sea change in plans for Americans comes at the same time that the number of people without traditional insurance is expected to increase as a result of the Trump administration's latest modification of the Affordable Care Act ("ACA"). Eliminating the penalty for those who go without insurance, combined with pushing for shorter term healthcare products, have both acted as catalyst for people to leave their traditional plans.
Even though the ACA expanded coverage to 19 million Americans, 28 million people still remain uninsured.
The Bergevins utilized a calculator provided by insurer Aetna, prior to the birth of their first son, to estimate costs. They were initially informed that it would probably cost $3,000-$4,000 out-of-pocket. The actual bills wound up being almost double that. The couple then had another hardship in 2016, when Lindsie needed to have surgery of her own, tacking on several thousand dollars more in bills. The couple put these bills on a credit card that they are paying $300 a month toward.
There finally came a breaking point where the couple just couldn't reconcile maintaining their traditional coverage:
"I couldn't justify it," she says. The cheapest policy she could find through the Affordable Care Act, she recalls, was $547 a month—more than half the family's $875 monthly rent at the time. It had a high deductible that could leave them with out-of-pocket costs of more than $10,000.

"If something were to happen to us, we would have been in trouble," she acknowledges. To hedge, the couple bought an inexpensive accident policy from Aflac that would cover some costs from an injury if, for example, Chris hurt himself working.
The couple instead enlisted the help of a small primary care clinic that was local to them. The doctor at the clinic, Julie Gunther, had also grown tired of the traditional healthcare system. Gunther was tired of working for a large hospital system and didn't like the fact that she was paid based on the volume of her patients and services billed. The 15 minute appointment times made her feel "like a factory worker" and she eventually got tired of apologizing to her patients for not having enough time for them.
"I was saying 'I'm sorry' all the time," Gunther, 42, recalls. "I'm sorry I'm late, I'm sorry this didn't get called in, I'm sorry this got forgotten, I'm sorry they didn't give me the message."
Gunther eventually quit her job and started her own practice, where the Bergevin family wound up. Gunther cares for about 600 patients, which is about 30% to 50% of the workload that a normal primary care physician cares for. Families like the Bergevins like the increased time that the doctor can spend with them as a result. "It was amazing. She sat down with me for an hour and talked about everything," Lindsie told Bloomberg.
And while Gunther isn't able to deal with severe injuries…
Gunther tells her patients that belonging to her practice is not a replacement for having health insurance.

"There's a whole bunch of things I can't take care of," Gunther says. "If you're not standing upright, or bleeding doesn't stop, do not call me."
…something as simple as an ear infection was dealt with quickly and on the cheap when it became an issue for the Bergevin family last year:
Last year, Lindsie Bergevin had a bad fever and what she described as "the worst pain I think I ever had in my head." She called Gunther at 9:30 p.m. on a Saturday. Gunther met her at the clinic 15 minutes later. "She's like, 'Girl, you have a double ear infection, and the worst I've ever seen.'"

Bergevin walked out with an antibiotic and says that if Gunther hadn't seen her, she would've gone to the emergency room, which could have resulted in a bill for hundreds or thousands of dollars.
But religious-based non-profits like Liberty HealthShare, the organization that the Bergevins joined, also come with their own sets of caveats. For instance, they won't cover medical expenses from behaviors that they deem immoral, like drunk driving car crashes. They also won't pay for contraception. In addition, they also limit coverage of pre-existing conditions for up to three years. Despite this, their deductible of $2,250 was found to be "a ton cheaper than a typical deductible" by the family. Liberty also caps reimbursements at $1 million, while traditional insurers are not allowed to set such limits.
With the government obviously unable to provide the best course of action for everybody given their unique sets of circumstances, stories like the Bergevins seem to lend credence to the argument that each individual and each family should "buy their own" and do what they deem best for their own personal situations.
"You have to find something that's going to work for you," Lindsie told Bloomberg.