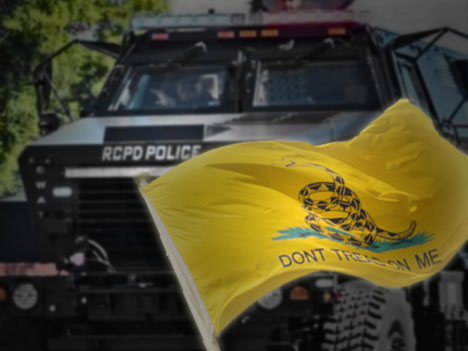 With the mounting police state surrounding modern day America, and numerous scenarios under which martial law, FEMA camps and civil war can be unleashed upon populations who dare to resist the federal takeover of the country, there is some good news.
Perhaps the flash points in Ferguson and Baltimore has put the question in front of everyone: do we want our police and law enforcement to become militarized, and to operate with the weapons of war?
Many states are fighting back and using cutting off local laws to cut police off from federal grants and military surplus equipment – including armored vehicles, grenade launchers, night vision goggles, weaponized drones and combat-configured aircraft.
Earlier this year, New Jersey passed a law requiring express local authorization for the receipt of military equipment under the Pentagon's 1033 surplus program.
Now Montana is going even further by banning receipt of 1033 surplus military equipment altogether. Is this a major blow to the mounting police state?
As the Tenth Amendment Center reported:
Today, a law that will heavily diminish the impact of federal programs militarizing local police in Montana went into effect.

Introduced by Rep. Nicholas Schwaderer (R-Superior), House Bill 330 (HB330) bans state or local law enforcement from receiving significant classes of military equipment from the Pentagon's "1033 Program." It passed by a 46-1 vote in the state Senate and by a 79-20 vote in the state House. Gov. Steve Bullock signed the bill into law in April.

Schwaderer told the Bozeman Daily Chronicle he was a surprised Bullock signed the bill. He said he feared the governor would cave in to law enforcement lobbyists who opposed the legislation and veto the bill.

I'm incredibly pleased. In the latter part of the session you see so much partisanship so it's heartening to see that both Democrats and Republicans could get behind it. It's no lightweight bill. It substantially changes policy in a way that strengthens the civil liberties of Montanans.

The new law prohibits state or local law enforcement agencies from receiving armored drones, weaponized, or both; aircraft that are combat configured or combat coded; grenades or similar explosives and grenade launchers; silencers; and "militarized armored vehicles" from federal military surplus programs.
Montana's HB330 also closes loopholes that allows local departments to purchase military equipment from Homeland Security using federal grant money – a procurement option that dwarfs the monetary value of transfers under the Pentagon's program. According to the Tenth Amendment Center, police and LEOs aren't totally barred from purchasing, but getting money at the local level won't come without a fight (hence a good check on the alarming militarization around us today):
[Police departments and other law enforcement agencies] could continue to purchase them, but would have to use state or local funds, and the agencies would have to give public notice within 14 days of a request for any such local purchase.
[…]
"This foundation sets a massive precedent in Montana and the country as to what kind of society we want to have," Schwaderer said of his bill. "If you get to the point where you need a grenade launcher, we've got the National Guard."

"Arming 'peace officers' like they're ready to occupy an enemy city is totally contrary to the society envisioned by the Founders," said Michael Boldin of the Tenth Amendment Center. "They've turned 'protect and serve' into 'command and control.'"
Though it is just one battle in the larger attempt to restore liberty and restrain tyranny, it is strong legislation for state rights.
via the Tenth Amendment Center: For other states: Take action to push back against federal militarization of your police HERE.
As SHTF previously reported, if you're interested in what your local county has been stockpiling compliments of The Department of Homeland Security, a database from the military's Defense Logistics Agency can help.
The Law Enforcement Support Office, under the 1033 program authorized by the National Defense Authorization Act, helps local police departments obtain military equipment for use in their cities… over 8,000 participating agencies have taken advantage of LESO offerings from the U.S. military and DHS since the program's inception

Simply choose your State and your County and you'll have complete access to see how well militarized your local and county police departments are:


Click here to load this Caspio Online Database.

Click here to launch the database in a new window for easier viewing.
(Secondary Link to Database Here)
Read more:
'The Republic is No More' Ron Paul Warns: "Police brutality and militarization may induce a violent event far beyond Ferguson"
Database Shows What Military Equipment Your Local Police Department Has Been Stockpiling
The 17 Elements of Martial Law
This is a REAL Commercial from AARP: "Riots Nationwide Have Prompted The Government To Declare Martial Law"
If Martial Law Comes to America "Dissidents and Subversives Would Be Rounded Up"