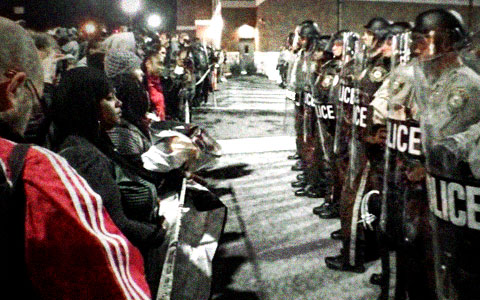 The moment of truth is upon us.
In just a short time, the world will find out if the Grand Jury decision in the Michael Brown case will lead to violence, unrest, clashes with riot police or all out martial law, as many have widely predicted.
The show begins at 8 PM Central tonight, according to the official word, when the long-awaited, purposefully dragged out and prolonged Darren Wilson/Michael Brown grand jury decision is slated to become official.
Several people have reported on Facebook that cops were overheard on police scanners in Ferguson declaring only a few minutes ago:
"Let's get ready to rumble."
Likely, those few words speak volumes about what is coming; what everyone has expected is coming.
Ferguson, Missouri and nearby Clayton, where the grand jury has been meeting these past few months, are primed and ready to go. Everyone from police to National Guard troops, to government officials as well as protesters and media figures have all been ready for weeks – to the point of fatigue. Will the agony of waiting by the "battle ready" make the possibility of chaos just a foregone conclusion?
Impatience and pressure for a decision have been building among residents and business owners, as well as police officers, who have been working 12-hour shifts with all leave time canceled since Saturday, said Jeff Roorda, business manager for the City of St. Louis Police Officer's Association. That schedule will continue through the aftermath of the grand jury decision.

"We have staffed up for civil disobedience, and now the guys are just waiting for an announcement," Roorda said. "I imagine it's just as tough on the Brown family and their supporters. The waiting is not easy on anybody."

"We just can't get through this until we get to it," Roorda said. "There's a certain psychological toll that battle-readiness takes on a person."
Gateway Pundit is now reporting that police, EMS and fire crews are stationed along Clayton streets just waiting for the official word:
So sad! "@MattFlenerKMBC: Multiple police, fire, and EMS crews staging right now in Clayton. #Ferguson pic.twitter.com/wZQFh8qbfI"

— Buster (@FameWhoreBuster) November 24, 2014
In fact, even the mailboxes in Clayton have been put on lockdown.
Mailboxes outside the St. Louis County courthouse are locked. Lots of prep here for the Ferguson grand jury decision. pic.twitter.com/9GXAx0U3SB — Mitch Smith (@MitchKSmith) November 24, 2014