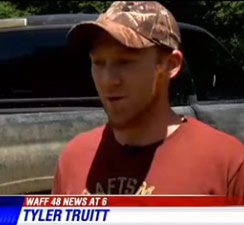 27-year-old Tyler Truitt and his girlfriend have become totally independent of reliance on city utilities, hooking up solar panels and rainwater collectors on their two acre property, but the city of Huntsville, Alabama claims the structure is unsafe because of sanitation issues.
"They came and they condemned our house and told us if we stayed here we'd be arrested for trespassing on our own property, and the reason why is, they said, it was unsafe living conditions because we don't have city utilities hooked up," Truitt told WAFF48.
The city asserts Truitt's property must be connected to the city's treatment facility for the safety of Truitt and his neighbors and to comply with health codes.
"The absence of a connection to a sanitary sewer system (whether a septic system or sanitary sewer outfall line connected, ultimately, to a treatment facility, is not only a health and safety issue for the occupants, it's a health and safety issue for others who may live around him/her," said Kelly Schrimsher, communications director for Huntsville Mayor Tommy Battle. "There are both benefits to be obtained, and compromises to be made, when people choose to live in an urban community."
Truitt has vowed to stay on the property until he is physically hauled away by police, asserting that he is upholding the oath he swore to protect constitutional rights.
"You have to stand up for what you believe in," he said. "They could come out here today if they wanted to and take us to jail for trespassing, if that's what they want to call it. … That'd be fine with me. I'll still come back the next day and the next day and the next day because it's my home and because I live here. Where else am I supposed to go really?"
Huntsville officials claim that living off grid is not illegal, but that Truitt has violated an ordinance which states that he cannot live in a trailer that's not in a designated trailer park. Truitt's next court date is set for July 29.
As we have previously reported, the clash between Americans choosing to live off-grid lifestyles and city authorities who insist they comply with sanitation codes has been intensifying.
All ten of the children seized from "off grid" parents Joe and Nicole Naugler in Breckinridge County, Kentucky remain in state custody 6 weeks after they were first taken.
The children were removed from the family by Sheriff's deputies on May 6 as a result of the Naugler's "free range" lifestyle on a rural 27 acre property. Photos posted on the family's Facebook page suggested the children were growing up in an idyllic environment, but authorities claimed that living and sanitary conditions on the property were dangerous.
Facebook @ https://www.facebook.com/paul.j.watson.71
FOLLOW Paul Joseph Watson @ https://twitter.com/PrisonPlanet
*********************
Paul Joseph Watson is the editor at large of Infowars.com and Prison Planet.com.