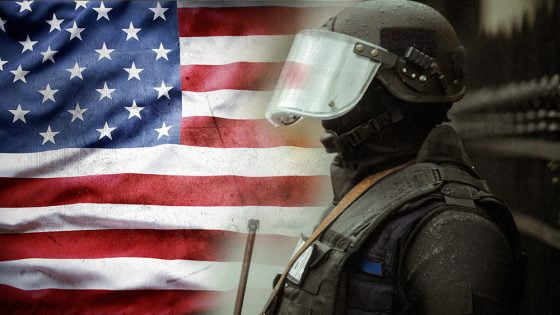 At the commands of the ruling class government, the police and military have decided to force tyranny and enslavement on the rest of us.  There has been little to no dissent from the order followers of the state, which doesn't bode well for our future.
It seemed like we were making progress with waking up the masses.  However, there's still a lot of people willing to enslave their fellow human beings on command. Soldiers and police are still only human beings, and as such bear moral culpability for the orders they follow.  As humans, they still have free will like the rest of us, and we need to make sure they understand that they are no better than the Gestapo at this point.
David Icke To LEOs & Military: "Look Your Children In The Eye" & Tell Them YOU Enforced Tyranny
A military show of force on the steps of the Lincoln Memorial in Washington caused a social-media uproar Tuesday night, and rightfully so. On American soil, the troops people have been stolen from for over a century to fund are now being used to make sure we submit to enslavement.
Protesters gather at the Lincoln Memorial. pic.twitter.com/eEU3r9ZAeF

— The Hill (@thehill) June 2, 2020
It's time to open your eyes and look at whose boots are on your face.  The United States government is terrorizing the public and the military, made up of simple humans like the rest of us, are going along with it.  Don't worry though. They are collecting a paycheck while a good number of Americans are out of work thanks to the government's response to the plandemic.
The show of force came after President Donald Trump on Tuesday again urged governors to call in National Guard troops to quell nationwide protests that have often turned violent, after threatening Monday night to deploy military forces. On Monday, federal police aggressively cleared a peaceful crowd of protesters in front of the White House, so Trump could have a photo op at an historic church across the street, a move condemned Tuesday by many congressional Democrats but few Republicans. –Market Watch
We have to wake people up to what's going on, or this will be the end of humanity.  We will all be slaves to be treated as the ruling class sees fit. If you thought we were nothing more than cattle before, brace yourself. It's going to get a lot worse.  There are only two options and I've said this before. One, submission to enslavement and forever loss freedom to the point that humans will never even know what the word means.  Two, learn and wake up to the fact that no human should ever have power over any other human for any reason. That's slavery. We will either be free, and the ruling class will be eliminated, or we will be slaves.  There are no other options. We cannot reform the government.  Any time power is given it will be abused.  That has been proven throughout history.
Jeff Berwick mentions these two options at the end of his most recent video (30:45). Which one would you prefer? You can't be a slave and also be free.
Personally, I see a bright future. But it all depends on how many people wake up and stop letting other human beings enslave them. We are still a ways off from it, but it's within our reach.
The Great Awakening: Our Future Will Be One of Liberty, Freedom, and Peace