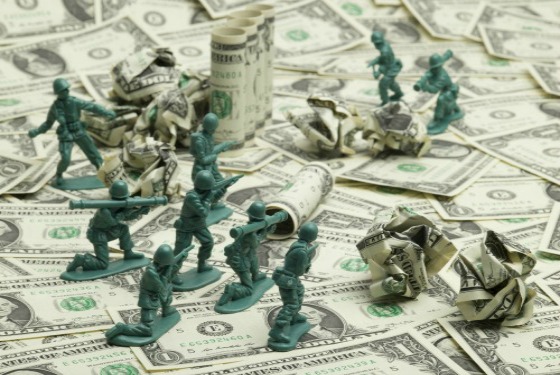 The Pentagon has ordered military forces and bases in the Washington D.C. area to "Force Protection Condition Charlie," a threat condition that indicates "likely" targeting of military forces and or terrorist action and the second-highest alert level available.
Are we still "trusting the plan?" Because that seems like a poor idea considering the military is "likely" to start shooting at us. We are all terrorists now, not just those "crazy conspiracy theorists" (who have been proven right, by the way) and we have all just been declared enemies of the state. It's a war on us.
According to a report by Newsweek, the state of "higher alert" was ordered as of 7:30 a.m. Tuesday morning for the District of Columbia, Maryland, and Virginia. The order follows a rapidly moving and confusing set of statements and threats coming out of the White House in the previous 24 hours. During this period, President Donald Trump has threatened state governors with federal intervention and appointed Chairman of the Joint Chiefs of Staff Army Gen. Mark Milley as the commander of federal forces—a legally questionable order. Under the law, the chairman serves as the principal military adviser to the president, not a military commander.
Isn't martial law, or at the bare minimum, a set-up for it? And one step further, all it takes is one paid agitator to fire at a soldier, then there will be a war. It'll be us vs. the government. It was best said by Ritchie From Boston on YouTube yesterday. The government (of which Trump is the head of) has forced us into a catch 22.  If we respond to their violence with self-defense violence, they will "light us up." If we do not respond with violence, the military will "light us up." We have been backed into a corner:
The government and elitists have engineered the chaos in order to maintain a grip on power. If anything, Trump is feeding it now as well. If he cared one iota about the public, why is he putting the military on alert to go to WAR with the American public? These are tough times and require critical thinking.
In his most recent video, Ritchie From Boston talks about how the system (the entire system, republicans, and democrats) has been used against the American public for so long, and it's so effective that you can show people absolute proof of something, and they STILL won't believe it. It's called Psychological Subversion. Why do you think there's a push to convince people that "anarchists" (remember, the word simply means an-without, and archos-rulers, so without rulers) are labeled as violent and people are told by everyone that not having sociopaths control their every move and steal from them is a bad thing? The government needs you to believe that without them ruling over you, there would be chaos and disorder. Yet, the government is putting military in the streets to fire on Americans.  I'd argue that the ruling over us by people who only mere humans themselves has led to the horrific disorder and chaos we are all now living in now. It is time to wake up and start to figure out what's been done to you for centuries. This is all a psychological war and most Americans are losing it.
The media has been very effective at getting people to actually bow in servitude and enslave themselves to the ruling class and political elitists. Ask yourself one question: why do you need someone to rule over you? Why should you be the slave? Start using critical thinking because it's the only way out of this mess.
Be safe, everyone. Godspeed.