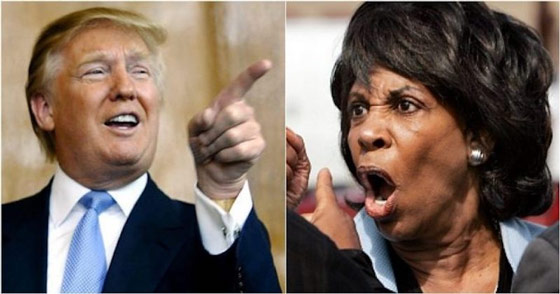 Left of left democrat Maxine Waters took an event meant to honor her and turned it into a bizarre anti-Trump show. At the TIME 100 Gala on Tuesday night, Waters called on President Trump to "please resign" so that she "won't have to keep up this fight of your having to be impeached."
Waters was prompted by a questioner who asked her if she had some advice for Trump, According to Fox News.  But instead of being genuine, she immediately reacted with an angry emotional outburst most liberals are known for.  "I don't think you [Donald Trump] deserve to be there," Waters said, referring to the current sitting president. "Just get out."
Enjoy the "Best of the Worst of Maxine Waters" by watching the video below.  Be ready to laugh and contemplate crying that this person was somehow elected to political power.
Waters isn't exactly known for her intelligence or integrity, and doubled down on that when using an event meant to honor her to tell Trump to "get out." She has even called for a "paternal advisory" warning before Trump goes on TV to speak.
The annual TIME 100 gala in New York assembles celebrities and prominent figures to celebrate the world's 100 most influential people according to TIME. In the 2018 TIME 100, Waters was named as one such influencer. Actor Yara Shahidi praised Waters as "so eloquent in letting the world, particularly the white men of Congress who dare test her acumen, know that she is not here for any nonsense."  (It's difficult not to laugh at that one. Waters probably has no idea what "acumen" even means.)
Of course, Tuesday night's comments were relatively tame for leftists, and especially Waters, who has previously called Trump the "most horrible man I've ever seen in my life." Last month, Trump said Waters suffers from a "very low IQ" and called on her to take an IQ test.  She responded by saying she would not be intimidated by him [president Trump].