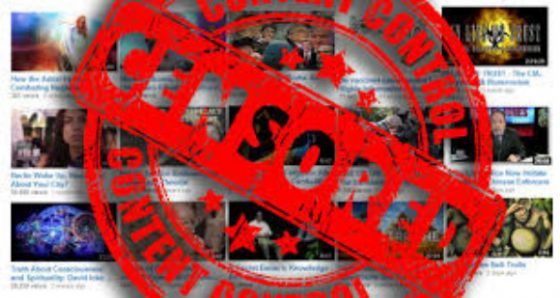 On Wednesday, YouTube announced that they would be silencing dissent to an even greater extent on their platform.  The tech giant plans to censor anyone who questions official narratives, or "Sandy Hook Truthers" along with others.
(Anyone notice that "truth" is in "truthers?" Because YouTube didn't.) Yesterday, some YouTube creators had started to notice their videos were being systematically deleted and their voices silenced.
"The things that are going to be blocked are not going to be fake stories. The things that are going to be blocked and censored, the things they are going to keep from people is going to be stuff they just don't want you to focus on or know about." – Melissa Dykes
 Watch the below video before it's taken down. Surely YouTube won't like the truth in this one:
Ironically, YouTube is continuing down the path of totalitarian dictatorships by willingly silencing those who offer an opposing opinion or point of view. And this time, it all stems from a Vox journalist who is a big fan of silencing those who disagree with him.  His target was Steven Crowder, but thousands of others will also be silenced.
https://twitter.com/scrowder/status/1136413675626143748?ref_src=twsrc%5Egoogle%7Ctwcamp%5Eserp%7Ctwgr%5Etweet
https://twitter.com/scrowder/status/1136367928365015043
In the wake of this personal vendetta between two individuals, YouTube has taken to mass censorship of everyone. Here is how it all began:
Just when one thinks social media and tech giants can't possibly get any worse when it comes to regulating speech, they announce the removal of thousands of videos that they don't like over a squabble between two guys. Look, I personally don't subscribe to the flat earth theory, but I'd never tell a person to sit down, shut up, and never speak about it again. Honestly, who cares what others say? Words can't physically hurt anyone. YouTube and Vox for that matter, is simply proving once again, that they fear what these creators have to say.
"When you tear out a man's tongue, you are not proving him a liar, you're only telling the world that you fear what he might say." –George RR Martin
According to The New York Times, the new policy will ban "videos alleging that a group is superior in order to justify discrimination, segregation or exclusion," the company said in a blog post. The prohibition will also cover videos denying that violent events, like the mass shooting at Sandy Hook Elementary School in Connecticut, took place.
We will begin enforcing this updated policy today; however, it will take time for our systems to fully ramp up and we'll be gradually expanding coverage over the next several months. -YouTube blog post
We all knew that the censorship would be ramped up sooner or later.  There are just not enough people left to fall in line with globalist and authoritarian ideals anymore without it.
"…the Nazi party was being condemned by much of the world for burning books, they were already hard at work perpetrating an even greater literary crime." – The Book Thieves: The Nazi Looting of Europe's Libraries and the Race to Return a Literary Inheritance
Sadly and quite horrifically, the difference between the Nazi book burning of the past and the technology giants censorship of today is support.  People all over the globe condemned the censorship of the Nazi's, while today, people are pushing for others to be silenced.  We live in a disturbing time in history, for certain.
Steven Crowder will be punished in some way, as it's clear YouTube has sided against him.  Crowder has millions of subscribers and offers conservative merchandise on Amazon.