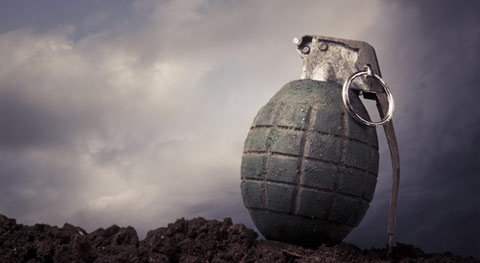 The stock market may be hovering near all-time highs, but according to Greg Mannarino of Traders Choice that doesn't mean the valuations are actually real:
We exist, beyond any shadow of any doubt, in an environment of absolute fakery where nothing is real… from the prices of assets to what's occurring here with regard to the big Wall Street banks, the Federal Reserve, interest rates and everything in between.

…All of this is being played in a way to keep people believing, once again, that the system is working and will continue to work.
Full Interview with USA Watchdog:
President Obama has suggested that people like Greg Mannarino who are exposing the fraud for what it is are just peddling fiction. And just this week the President argued that he saved the world from a great depression and that the closing credits of the 2008 crash movie "The Big Short" were inaccurate when they claimed that nothing has been done to fundamentally curb the fraud and fix the system under his administration. But as Mannarino notes, the President and his central bank cohorts are making these statements because the system is so fragile that if the public senses even the smallest problem it could derail the entire thing:
Let's just look at the stock market… there's no possible way at this time that these multiples can be justified with regard to what's occurring here with the price action of the overall market… meanwhile, the market continues to rise.

…

Nothing is real. I can't stress this enough… and we're going to continue to see more fakery… and manipulation and twisting of this entire system…  We now exist in an environment where the financial system as a whole has been flipped upside down just to make it function… and that's very scary.

…

We've never seen anything like this in the history of the world… The Federal Reserve has never been in a situation like this… we are completely in uncharted territory where the world's central banks have gone negative interest rates… it's all an illusion to keep the stock market booming.

…

Every single asset now… I don't care what asset… you want to look at currency, debt, housing, metals, the stock market… pick an asset… there's no price discovery mechanism behind it whatsoever… it's all fake… it's all being distorted.

…

The system is built upon on one premise and that is confidence that it will work… if that confidence is rattled the whole thing will implode… our policy makers are well aware of this… there is collusion between central banks and their respective governments… and it will not stop until it implodes… and what I mean by implode is, correct to fair value.
And when that confidence is finally lost and the fraud exposed – and it will be as has always been the case throughout history – the destruction to follow will be one for the history books.
In a previous interview Mannarino warned that things could get so serious after the bursting of such a massive bubble that millions of people will die on a world-wide scale:
It's created a population boom… a population boom has risen in tandem with the debt. It's incredible.

So, when the debt bubble bursts we're going to get a correction in population. It's a mathematical certainty.

Millions upon millions of people are going to die on a world-wide scale when the debt bubble bursts. And I'm saying when not if…

…

When resources become more and more scarce we're going to see countries at war with each other. People will be scrambling… in a worst case scenario… doing everything that they can to survive… to provide for their family and for themselves.

There's no way out of it.
And that may be why governments around the world are preparing for nothing short of Armageddon that will see rioting in the streets, violence, civil war and regime change. In the United States, the Federal government and Pentagon have been war-gaming large scale economic collapse scenarios and those preparations began in earnest shortly after the collapse of 2008.
Nationally syndicated talk radio host Mark Levin explains:
I'm going to tell you what I think is going on.

I don't think domestic insurrection. Law enforcement and national security agencies, they play out multiple scenarios. They simulate multiple scenarios.

I'll tell you what I think they're simulating.

The collapse of our financial system, the collapse of our society and the potential for widespread violence, looting, killing in the streets, because that's what happens when an economy collapses.

I'm not talking about a recession. I'm talking about a collapse, when people are desperate, when they can't get food or clothing, when they have no way of going from place to place, when they can't protect themselves.

There aren't enough police officers on the face of the earth to adequately handle a situation like that.

I suspect, that just in case our fiscal situation collapses, our monetary situation collapses, and following it the civil society collapses – that is the rule of law – that they want to be prepared.

There is no other explanation for this.
The entire system is built upon a fraud. The losses have been hidden and papered over with trillion dollar cash infusions by governments and central banks around the world.
It is only a matter of time. That we can be sure of.
If you're reading this and haven't yet done so, it's time to prepare for a collapse of a magnitude never before witnessed.
The elite are feverishly building bunkers for a reason, just as the government is spending billions of dollars on food stockpiles, assault weapons, and hundreds of millions of rounds of ammunition.
Why? Because they know.
For more interviews like this one visit Greg Hunter's USA Watchdog.
For commentary on financial markets and trading tips in a volatile environment check out Greg Mannarino's free web site at TradersChoice.net.
Related Reading:
The Prepper's Blueprint: A Step-By-Step Guide To Prepare For Economic Collapse
Analyst: "Millions Upon Millions of People Are Going to Die on a World-Wide Scale When the Debt Bubble Bursts"
Mark Levin: Government Is "Simulating the Collapse of Our Financial System, the Collapse of Our Society and the Potential for Widespread Violence"
What is Coming? Elite Feverishly Building Survival Bunkers: "Fear of Uprising From the 99%"
Peter Schiff Warns: "The Whole Economy Has Imploded… Collapse Is Coming"
Collapse Strategist: "We're In The Terminal Phase… Economic Pain Like We've Never Seen Before"