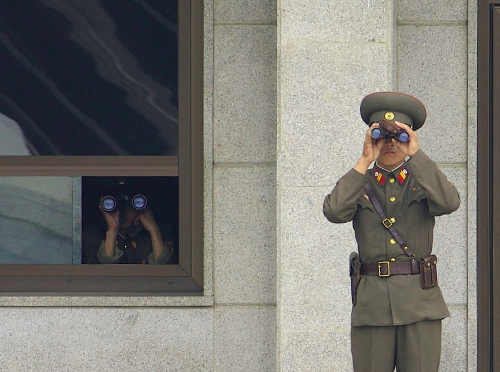 We should all hope that the current level of antagonism between the US and North Korea eventually passes, as it has many times before. But if it does, North Korea will fade from the news cycle. And with that, most people are going to forget about some of the crazy things that country has done, including the fact that they routinely kidnap foreigners and imprison them years.
Currently there are four Americans who are known to be held by the North Korean regime. But as crazy as it might sound, there are probably many more Americans and other Westerners who are secretly being held captive there. You'd think that we would know about every single person who has been taken by that government, but there's one reputable source who claims otherwise.
While visiting North Korea, a Canadian security consultant and businessman by the name of James Leigh was imprisoned and interrogated there for several days last month. He claims that while he was in prison, he spoke to Professor Tony Kim, a US citizen who was also recently jailed by the authorities in North Korea. Kim was apparently being housed in a cell next to Leigh's room, and the two frequently spoke to each other. Kim revealed to him that there are far more Americans being held captive in North Korea than any of us realize. Here's what Leigh revealed in a recent interview with Newsmax, not long after he was released:
He said during his two-and-a-half day imprisonment, Prof. Kim told him, "There's a lot more Americans locked up here than anyone knows.

"I said, 'Are you serious?'"

"He said, 'Yeah, Canadians, Americans, Europeans. There's a whole place to hold them.'"
And that place apparently, goes by a very chilling name
According to Leigh, Prof. Kim told him that many other foreign nationals have been secretly arrested and imprisoned in North Korea.

Prof. Kim told Leigh an associate had visited the facility where the prisoners are housed. According to Prof. Kim's account as related by Leigh, locals refer to that prison as "the house of people with no name" or "the place without a name" — Leigh was uncertain of the precise phrase due to language difficulties.

"He was pretty specific about that," says Leigh. "He knew about that. That was something he really wanted me to know. … There were Americans and Europeans. … He was pretty specific because that was probably where he was going."
And it's not just Kim's story that makes Leigh think that North Korea has captured scores of Westerners. He claims that during an interrogation, he saw filing cabinets brimming with large folders that were labeled with Western-sounding names. The only thing that's even creepier than that, is how so many of these people could have found themselves imprisoned in North Korea.
"He says there a lot more Americans than we know about being held," says Leigh, who adds that given the thousands of U.S. ex-pats living in Asia and the limited resources available to track their whereabouts when they go missing, he does not find Prof. Kim's claim farfetched or improbable.
It sounds like he's implying that North Korea isn't just arresting Westerners who visit the country. They're sending out agents to kidnap tourists and ex-pats in neighboring countries, before sneaking them back into North Korea. There's actually a precedent for this. In the past, Kim Jong-il admitted that his government had kidnapped 13 Japanese citizens from Japan's coastline between 1977 to 1983.
Of course, it's easy to make light of the countless abuses that have been committed by the North Korean regime. What's harder to admit is that in the past, our own government has passed laws that allow agents of the state to imprison American citizens without trial, and make them disappear. Our own government has been caught training the military to intern Americans, and coerce them into forced labor. While North Korea has a horrific series of gulags designed to corral and subdue unruly citizens, we have plenty of FEMA camps waiting in the wings for the next serious national emergency.
What's going on in North Korea should stand as a warning to Americans. It's shockingly easy for a government to make anyone disappear. And if North Korea slips away from the daily news cycle again in the near future, let's hope that this lesson isn't forgotten.
Read More:
Police Officer's FEMA Warning: "If You Get On a Bus With Government Plates Then You May Have Sealed Your Fate
Main Core: A List of Americans That Will Be Subject to Detention During Martial Law
Supreme Court Justice Confirms American Internment Camps Will Happen Again: "It is the Reality"
Video: Marines Practice Subduing Citizens Inside Internment Camps
Executive Doomsday Order: Obama Authorizes Gov to Seize Farms, Food, Processing Plants, Energy Resources, Transportation, Skilled Laborers During National Emergency