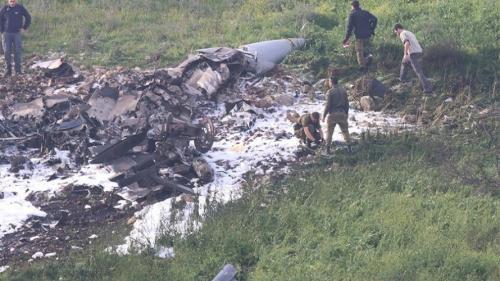 Update: According to Al Masdar, the Israeli pilot whose warplane was shot down by Syrian air defense forces on Saturday morning has died from injuries sustained during the engagement.
While according to initial reports both crew members ejected – the weapons operator with light injuries and the pilot with 'severe' injuries, according to subsequent, still unconfirmed, reports, the Israeli pilot with serious injuries has died in hospital. No further details were given according to Al Masdar.
This report however is being denied by the Times of Israel  which reported that the pilot suffered wounds to chest, abdomen while ejecting from jet; co-pilot set to be released home Sunday.
The condition of the pilot, who was seriously injured after he was forced to evacuate the plane, stabilized Saturday morning, but he was still unconscious and connected to a respirator, doctors at Haifa's Rambam Medical Center said.
The condition of a seriously wounded Israeli pilot began to improve Saturday, after he underwent surgery for injuries he sustained while ejecting from his plane over northern Israel, in the midst of a severe confrontation between Israel, Syria, and Iran, the ToI reported.
The F-16 jet he was piloting took part in Israeli airstrikes in response to an Iranian drone that entered Israeli airspace from Syria in the early morning hours on Saturday.
הסלמה בצפון | תיעוד: טייס מטוס הסופה שנטש את מטוסו – בדרך לקרקע @OrHeller ו@alonbd pic.twitter.com/SjF0QWIpli

— חדשות עשר (@news10) February 10, 2018
As reported earlier (see below), a major battle broke out on Saturday between the Israeli Air Force and Syrian Air Defence Force over the occupied Golan Region, south Lebanon and the west Damascus region. During the confrontation that lasted for hours, Israeli warplanes and Syrian anti-aircraft systems traded missile fire – literally dozens of such munitions were fired – as the latter launched a general attack against 'Iranian and regime' bases west of Damascus.
And in a major escalation, one which has the potential to escalate into all out war, at the beginning of the battle, a Syrian surface-to-air missile downed an Israeli F-16I fighter jet over the occupied Golan Heights (described as 'northern Israel' by Israeli sources).
Earlier:
Open war has now essentially broken out between Israel and Syria. Israel confirms through its IDF spokesperson that it has carried out "a large scale attack" consisting of at least a dozen strikes on Syrian and Iranian military targets inside Syria, in what Reuters dubbed a "major escalation of tension".
What we previously described as Assad's strategic "waiting game" and reluctance to respond to repeat Israeli violations of Syrian airspace while launching unprovoked attacks appears to be over as Syrian air defense has shot down an Israeli F-16 fighter jet near the Golan border region in what is a major escalation in the conflict.
Moments ago, IAF aircraft, targeted the Syrian Aerial Defense System & Iranian targets in Syria. 12 targets, including 3 aerial defense batteries & 4 Iranian military targets, were attacked. Anti-aircraft missiles were fired towards Israel, triggering alarms in northern Israel

— IDF (@IDFSpokesperson) February 10, 2018
Sources in Damascus say surface-to-air missiles going off non-stop. Israel is pounding western Damascus

— Leith Aboufadel (@leithfadel) February 10, 2018
Though details remain murky and are still developing, Israel has confirmed that its F-16 jet has crashed in Israeli territory after it was struck carrying out operations targeting locations in Syria. The IDF spokesman quickly stated in a tweet confirming the shoot down that "Iran is responsible for this severe violation of Israeli sovereignty."
The minute the two #Israeli pilots arrive at an Israeli hospital , there F-16 was shot down while attacking #Syria-n targets , syrian army says their air defense system shot and hit few Israeli war jet pic.twitter.com/BvoGNi7b1z

— Nasser Atta (@nasseratta5) February 10, 2018
The two Israeli pilots ejected, landing inside Israel in the northern countryside of Galilee and were rushed to a hospital, according to local media reports. Israeli military statements have indicated that one of the pilots suffered severe injuries as a result of the emergency ejection from the aircraft.
Video first posted on social media captured by onlookers in the area appears to show a pilot parachuting into the northern Israeli countryside of Galilee.
Early unconfirmed footage of the F-16 crash and subsequent rescue have emerged on social media. The following shows multiple scenes currently circulating from the early morning incident: 
#Syria Air Defense Force used S-200V Surface to Air missile to shoot-down an #Israel Air Force F-16I while was bombing an #IRGC base in Syria. The F-16 is crashed in Israel territory & its pilots ejected safely & were evacuated by S-70A. #IRGC has used UAV to check F-16 wreckage. pic.twitter.com/qPkjzT7iPf

— Babak Taghvaee (@BabakTaghvaee) February 10, 2018
This is the first time in the 7-year long Syrian war that an Israel jet has been shot down, and after promising a swift response, Israel has launched multiple retaliatory strikes against Syrian military bases in the southwest countryside of Damascus.
This morning, an IAF pilot was severely injured as a result of an emergency evacuation from an IAF aircraft. The pilot was evacuated to the hospital for medical treatment. The incident is being reviewed. The family has been notified.

— IDF (@IDFSpokesperson) February 10, 2018
Beirut-based Al Masdar News reports that the incident occurred at approximately 6:30 A.M. Saturday morning (local time)and that the Israeli F-16 fighter was hit while flying within Syrian airspace near Damascus.
Official Israeli statements claim multiple of its jets were scrambled in response to an Iranian drone launch into Israeli airspace, which the IDF says was intercepted amidst "massive Syrian anti-air fire". The F-16 was engaged in an operation to destroy the Syrian ground base from which the UAV was launched.
According to the Israeli version of events issued in real time by IDF spokesman Jonathan Conricus:
Accurate hits of Iranian UAV control facility confirmed.

— Jonathan Conricus (@LTCJonathan) February 10, 2018
Breaking news: IDF intercepted an Iranian UAV launched from Syria over Israeli airspace, and is now engaging Iranian targets in Syria in response. More details to follow.

— Jonathan Conricus (@LTCJonathan) February 10, 2018
The Syrian military has stated that its air defense missile system further struck an Israeli drone shortly after the F-16 was downed, which had been launched from the Israeli occupied Golan Heights. There's not been immediate Israeli confirmation of this second aircraft downing.
In response to the F-16 downing, after 8:00 A.M. local time the Israeli Air Force fired several missiles targeting the Al-Kiswah area near what is said to be an Iranian base outside of Damascus. And shortly after this initial Israeli retaliation strike, a more massive wave of missiles hit a mountaintop Syrian Army base in the same area. Regional sources are reporting that multiple Israeli missiles struck the base, while others were intercepted by Syrian air defense.
It appears that Israel launched missiles on locations in central Syria as well, with casualties reported among Syrian Army forces and their allies. The Associated Press cites a Syrian opposition monitoring group to report the following:
A Syria war monitor says Israel has struck targets in central Syria and the southwestern suburbs of the capital Damascus in two separate and successive waves of airstrikes.

The Syrian Observatory for Human Rights says the first round targeted in the central desert area where Syrian troops and their Iranian-backed allies including Hezbollah are known to maintain bases. It cited unconfirmed reports of casualties among Syrian government forces and allied militiamen.

The Britain-based Observatory, which monitors the Syria war through a network of activists on the ground, says the second round targeted outposts in the southwestern suburbs of Damascus.
Syrian government media reported multiple missile intercepts, likely through its sophisticated Russian-supplied anti-air defense system, and confirmed the large-scale Israeli attack on Syrian military locations in central Syria.
According to Syrian state-run SANA:
The army air defense confronted a new Israeli aggression on one of the military positions in the central area and hit more than one aircraft…

Moreover, the Army air defense confronted another Israeli aggression on Damascus Countryside on Saturday morning…

Meanwhile, media of the Israeli enemy admitted that the Syrian air defense shot down an F-16 jet over Galilee in occupied Palestine and that its pilots were injured, confirming the closure of parts the Israeli airspace for aviation after downing the warplane.
As a result of escalating events airspace closures have been reported over northern Israel, as well as multiple Israeli air defense warning sirens sounding at the Golan Heights and throughout lower and upper Galilee.
Israel's Ben Gurion international airport outside of Tel Aviv was also reportedly on lockdown for some period of time after the exchange of fire between Syrian and Israeli forces.
Meanwhile, the Israeli military has blamed close Syrian ally Iran for today's F-16 shoot down and escalation. The IDF issued a threatening statement which reads: "The IDF will act determinately against such severe violations of Israeli sovereignty by Iran and Syria and will continue to act as necessary. The IDF is ready for various scenarios and will continue to act according to situation assessments."
And according to a statement issued to the AFP, Israel says Iran and Syria are "playing with fire" but that Israel does not want escalation. However, regional media reports indicate Israel has continued to pound the Damascus countryside throughout the morning. The Syrian government has condemned Israel's actions as unwarranted "aggression".
It must be remembered that the Israeli Air Force has acknowledged striking targets inside Syria at least 100 times over the past few years of the conflict, with the last attack prior to today's events happening just earlier this week. Syria has frequently taken its case before the U.N., calling for official condemnation of the unprovoked attacks, but has been just as frequently rebuffed.
In its now 'open secret' of a years-long pursuit of regime change in Syria, Israel has given covert support to al-Qaeda linked groups in Syria's south – near the vicinity of today's F-16 shoot down – which has involved weapons transfers and treatment of wounded jihadists in Israeli hospitals, according to The Wall Street Journal. As former Acting Director of the CIA Michael Morell once directly told the Israeli public, Israel's "dangerous game" in Syria has involved getting in bed with al-Qaeda in order to fight Shia Iran.
And as Israel has long sought ways to justify attacks on Iranian assets in Syria while at the same time undermining and destabilizing the Syrian government, the downing of an F-16 may have given Israel's hawkish leadership the excuse they've been looking for all along to escalate toward a final confrontation.
Middle East based journalist and analyst Elijah Magnier says we could be witnessing the tipping point that will ignite the entire region. Magnier reports that according to a "private source, all Syrian military and intelligence and their allies' (Hezbollah) positions in Syrian and Lebanon are on full alert."