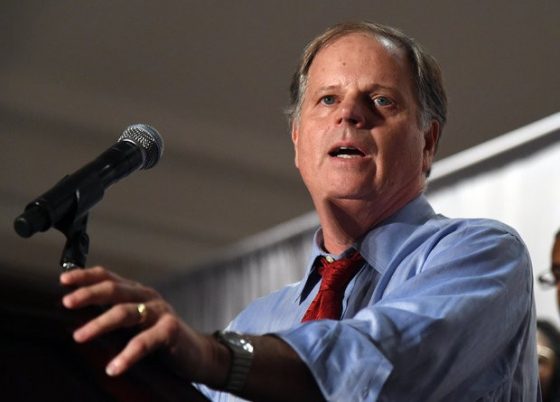 Immediately following the stunning victory by Democrat Doug Jones in the Alabama Senate race, liberals, including many "prominent" leftists, took to social media to attack white people as a whole over the fact that some whites voted against the pro gun-control former prosecutor.
That's right, in the new America, the hard-left openly mocks and insults all white people simply because a certain percentage of them do not vote for liberal candidates.
Keep in mind that BOTH candidates were white yet that did not stop the race baiting left from conducting a vile series of attacks on the white race while pretending that they are the civil rights heroes.
As I've been prone to say lately, you truly cannot make this stuff up.
Filmmaker and noted anti-Trump propagandist Michael Moore got into the action early, tweeting out an image that attacked white people over the fact that 63% of white women and 72% of white men had voted for Roy Moore in Alabama.
Dear White People… pic.twitter.com/Y5eWxD0FX1

— Michael Moore (@MMFlint) December 13, 2017
As Paul Joseph Watson noted,  MSNBC, CNN and Huffington Post contributor Kevin Allred continued the attacks on white people during an unhinged rant that literally cursed at white people over and over again.
Imagine owning a brain that produces this. pic.twitter.com/w4RUa45LTs

— Paul Joseph Watson (@PrisonPlanet) December 13, 2017
A communications director for a Democrat in the House specifically took aim at white men who committed the horrific crime of voting for their preferred candidate.
so…I wanna re-emphasize something. White people strongly supported Roy Moore. Let's take that, internalize it, and not let ourselves pretend that we don't have a problem. White men especially.

— Dante Atkins (@DanteAtkins) December 13, 2017
Another prominent liberal flat out rallied against the fact that there are a large amount of white people in America itself.
black people are turning out in higher numbers than 2014. white turnout it down. the problem here, as everywhere in america, is that there still may be too many white people.

— Noah Berlatsky (@nberlat) December 13, 2017
Independent journalist Chris Menahan, writing for Information Liberation, also took screenshots of at least a dozen liberal voters attacking the very existence of the white race. Remember, this is being cheered on by liberals in this country who hold actual power.
From calling all white people stupid, to claiming that only minorities should be allowed to vote, the tweets compiled by Menahan paint a clear picture of what at least part of the hard-left truly believes.
Make no mistake, this is a direct attempt at forcing white people across the country to vote liberal over the fear that they might be labeled racist. This is obviously an absolutely disgusting political move by the left that the American people will hopefully see right through.
With that being said, it does not change the fact that the Democratic Party is now openly attacking any white person who does not vote for them.